As social media marketers, we all know that our days can get quite busy and that you need to jump from one tool to another to get any work done.
Sometimes, you need an easy tool for publishing or sharing your content to multiple social networks, sometimes you want to make sure that you did not make any spelling mistakes in that latest social media update, and you want to make sure that you have a safe password for the accounts you need to share with your clients, and can safely share them, sometimes you're looking for some inspiration to get you started,… the list can be endless.
The greatest benefit of using a browser extension to help you with these is that it can accelerate the pace at which you need to do your work, as all are coming together in just one place.
So are you tired of switching to different tabs and needing to log in whenever you want to access your tools?
Then consider installing one of these extensions so you can do more in less time.
Got a browser extension that you use for your social media marketing activities that did not make this list? We'd love to hear about it in the comments!
To help you find the browser extension you might need, we've divided this list into a bunch of different categories:
Productivity Extensions
When you'd ask any (social media) marketer what they want to do to get more of? It is probably time to ensure they can finish all their work in their busy schedule.
So let's kick off the list with some productivity extensions that will help you speed up your workflow in no time.
#1 Momentum: Personal dashboard new tab chrome extension
The first one on our list is Momentum, which might be one of the best Chrome extensions for productivity.
The extension steers your focus from idle to important by motivating you with quotes, encouraging positivity with mantras, and inspiring you with serene photography whenever you open a new tab.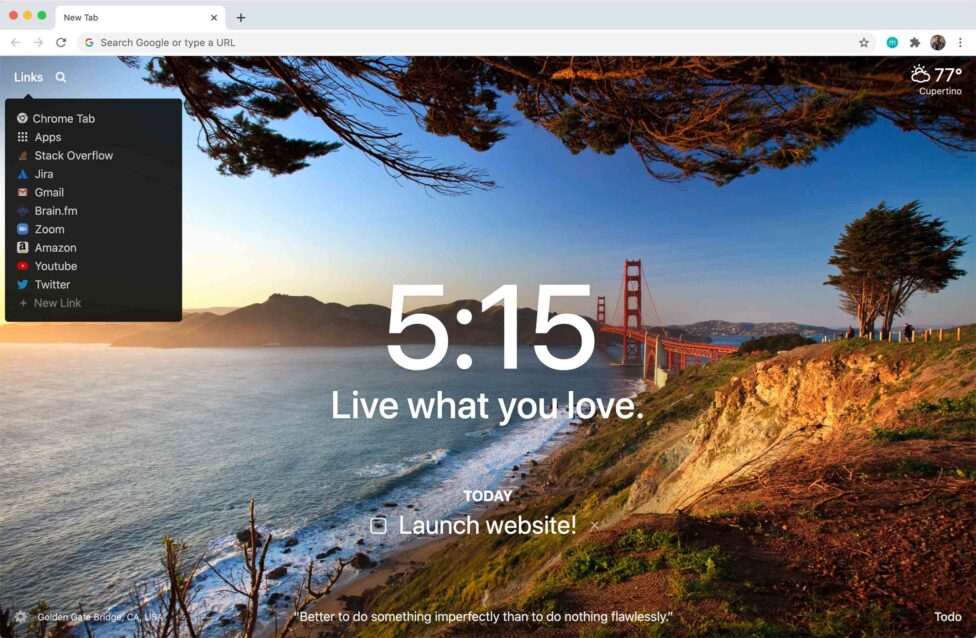 Features like Daily Focus, To-Do, Countdowns, Metrics, Event Reminders, Links and bookmarks, the weather, and more help you browse the internet with intent.
There is also a plus version available that lets you sync your tasks with other productivity software like Asana, Basecamp, Trello, and others.
Pricing: Free and $3.33/month for the plus version
Available on Chrome
#2 Strict Workflow: Block out every single distraction
Although focusing and being reminded of your daily tasks every time you open a new tab in your browser is great, you can still wander off on the internet and get distracted the moment you start typing in your favorite news website.
No more with Strict Workflow.
Strict Workflow is clearly inspired by the Pomodoro technique, where you work for 25 minutes, get a 5-minute break after, and do that in a continuous cycle.
With Strict Workflow, you can set a timer for 25 minutes to fully focus on getting work done, after which you get a 5-minute break.
How does this timer make sure you actually do your work? This browser extension comes pre-configured with lots of time-sucking websites so you can keep focused. Of course, you can whitelist and blacklist certain websites you need to get your job done, but for the rest, nothing gets through anymore.
We bet you start killing off those todos in no time!
Pricing: Free
Available on Chrome
#3 Supatabs – avoid cluttering your browser tabs and free up to 95% of your memory
Unless you're using a powerful computer, having too many open browser tabs or windows will use up a lot of memory and slow your computer.
Whenever you find yourself with too many tabs, click the Supatabs icon to convert all of your tabs into a list. When you need to access the tabs again, you can either restore them individually or all at once.
By bundling multiple tabs with Supatabs, you'll save up to 95% of memory because you will have reduced the number of tabs open in Google Chrome.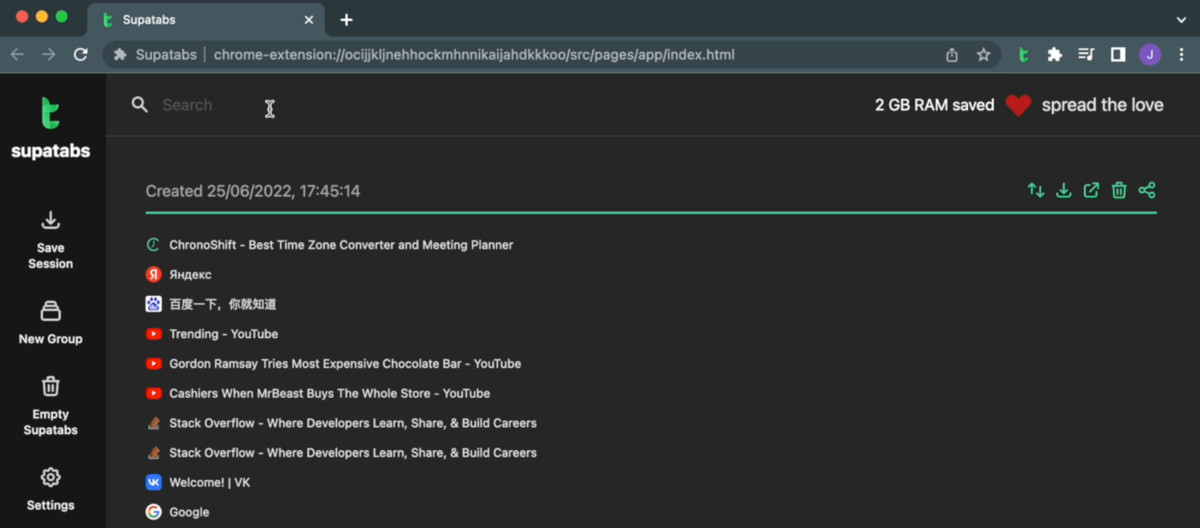 You'll be surprised by how much time faster browser loading speed can save.
Pricing: Free
Available on Chrome
Research and tracking extensions
#4 Pocket / Instapaper / Evernote / Notion – Curating amazing content to share
Read-it-later extensions can be an enormous timesaver, not just so you can keep your focus but also to use as source material when creating content later.
Pocket, Instapaper, Evernote, and Notion all let you save blog posts or articles to read later, and you can do this with a single button click straight from the extension.
One of the advantages that we personally find is that when you create new content in Evernote, it gives suggestions for related notes. Giving you easy links you can include in your content enhances the experience for the reader and back up any claims that you make.
Want to go even more pro? Using the clippings.io browser extension, you can export your Kindle highlights into Evernote and have all of those highlights you create while reading books available as reference material in your Evernote!
Pricing: Both free and paid plans
Available on Chrome, Firefox, and Safari
#5 Media Bias/Fact Check – Make sure what you share is the truth
Want to make sure that what you share is truthful? In today's age, sadly, fake news is becoming more and more available. And, of course, you want to stay away from that content when you're going to share interesting messages with your followers.
But what if browser extensions had the power to detect fake news in a matter of seconds? Imagine the time, effort, and frustration you would spare by having AI-powered algorithms or fleets of human fact-checkers alert you to misleading articles before you even start reading.
What a huge time saver!
Media Bias/Fact Check is a website founded in 2015. Its mission is to inform readers of misinformation and political bias within digital stories. It offers a browser extension for users of both Chrome and Firefox.
The extension works for news sites as well as Twitter and Facebook. Using the Media Bias/Fact Check database, the browser displays an icon showing any accuracy or bias on each page that you encounter.
Clicking the extension icon opens additional notes about the site. The Media Bias/Fact Check rating system includes: Least Biased, Left Bias, Right Bias, Conspiracy-Pseudoscience, Satire, Questionable Sources, and other variants. The Media Bias/Fact Check database contains evaluations of more than 3,000 websites.
Pricing: Free (with advertising) or ad-free for $50 per year
Available on Chrome and Firefox
#5 BlackMagic – Enhanced Twitter for pro tweeters
If you're serious about growing your online Twitter presence, you need to have the data that give you the insights, you need to have some form of way to not forget about the people you want to interact the most with, and you need ways to easily engage and schedule your content in advance.
Meet BlackMagic, one of the best browser extensions to enhance your Twitter experience.
The moment you install the extension, you take twitter.com to the next level, giving you the inspiration to tweet, the most engaging hours of the day, and so much more.
Pricing: Starts free, up to $79,99 per month
Available on Chrome
#6 Google Analytics URL Builder: Online UTM tracking
Every marketer needs some form of data attribution to ensure that they know which post or campaign brings in traffic or visitors.
One of the easiest ways to do this is by adding UTM parameters at the end of each URL you share, so you can see the campaign information in your Google Analytics.
The Google Analytics URL Builder extension lets you build UTM parameters easily without opening a new tab.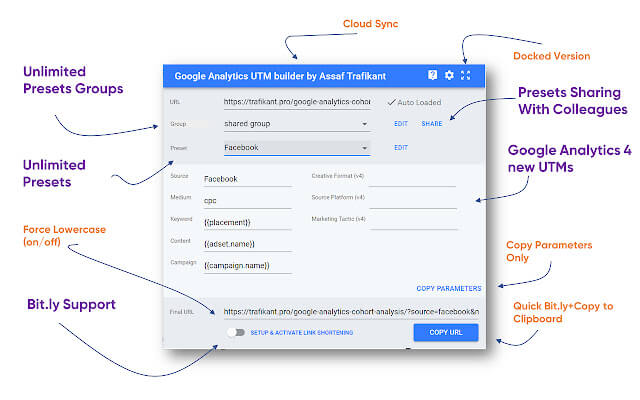 With the help of this plugin, you will be able to gauge the effectiveness of the UTM tags used in the campaigns.
Google Analytics URL Builder also allows you to share templates with others, saves time when you have to generate URLs manually, and shares progress with clients.
Pricing: Free
Available on Chrome
Content creation and implementation
#7 GIPHY – Fun animated GIFs to enhance your updates
Everybody loves a good GIF, and all of the major social media sites, thankfully, are supporting them. We already talked about using GIFs and creating your own GIFs to increase social media engagement.
Using the default GIF integrations available on Facebook and Twitter might not always give you the results you want, though, and what if you're searching for a sticker or animated emoji to bring your point across?
This is where the GIPHY browser extension comes to the rescue, allowing you to easily drag and drop any GIF you find anywhere online. From social media content to that Google Slides presentation you're working on to report back to your boss or clients.
Pricing: Free
Available on Chrome, Firefox, and Safari
#8 Figure it Out: Solve your time zone pain
The online marketing world is a global business, which means that as a digital or social media marketer, you're not always working for clients in your own time zone.

Are you one of those people? Figure it Out proves to be a handy tool for you! It is an extension that lets you keep track of up to 10 time zones and makes scheduling posts accordingly.
Pricing: Free and paid ($3/month)
Available on Chrome
#9 WhatFont: Identify fonts on web pages
Choosing the right font for your social media content can make or break a post, so finding the right one can be tricky, especially if you don't have any brand guidelines.
So sure, you can download an app that will give you hundreds of fonts, with all funky names, that all look too similar, too familiar, or too quirky for your campaign.
And then, one day, you will browse and land on the website with the perfect font you were looking for, only you have no clue which one it is.
This is where WhatFont saves your day. A single click and this browser extension will reveal not only the name of the font but also the family, style, weight, size, line height, and color of the font.
Sure, you might not use it every day, but when you do need it, you will thank us 😉
Pricing: Free
Available on Chrome
#10 Eye Dropper – Identify the precise color of anything you see in your browser
Just like finding the right font can sometimes be a huge struggle, finding that one color quickly to use in your branded content can sometimes become a nightmare too (where did I store those brand guidelines on my computer).

So why not quickly go over to your website or your customer's website and use Eye Dropper to find the colors they are using? It even works on images on any website too.
Great for finding that one color you love.
Pricing: Free (and open source)
Available on Chrome
#11 Unsplash Instant: Beautiful photos in your new tab
Not every company has the luxury or the time to create their own stock photos, but sometimes you just need a picture that is of high quality, doesn't look like your typical stock photo, and better is also free.
Unsplash Instant lets you find great photos ranging from flowers and skies to desktops and artsy portraits. You can save them for free and use them for all kinds of commercial use.
Pricing: Free
Available on Chrome
#12 ScreenClip – Snap, Record & Share ScreenShots in a Breeze
When you want to explain your product via a social media post, you probably want to create a screenshot or maybe a screen recording explaining what your product is about and how it can help the lives of your (potential) users.
Screenshots are made for this. They can be a helpful, visual way for you to explain the inner workings on social media or for your next newsletter.
If you don't have a dedicated desktop application to help you with this, ScreenClip can bring this functionality straight into your web browser. You can take a screenshot or screen recording, annotate it, and download or share it immediately.
Pricing: Free
Available on Chrome
#13 Sniply: Drive conversion through content
Have you ever clicked on a link and seen this nice call-to-action at the bottom of your screen from the brand that shared the link, even though it did not go to their website?
You probably clicked on a link shared via Sniply.
Especially when you do a lot of content curation for yourself or your clients, Sniply will help you make those conversion-generating posts by allowing you to add custom call-to-actions to any piece of content you share.

They also have a dashboard that will show you how many clicks your links are getting and the engagement on those links for tracking purposes. The only thing missing is the ability to add tracking pixels in the links so you can retarget the people clicking on them, but who knows, maybe in a future version?
Pricing: Free and paid plans (depending on the amount of link clicks you get every month)
Available on Chrome, Firefox, and Safari (the last one via a bookmarklet)
#14 Grammarly: make great writing simple
Not every country in the world has the ability to edit tweets yet, so we know the feeling of sending out a tweet and seeing a simple grammar error the moment you hit publish.
As soon as you notice the mistake, you start to hope not all your followers are online and have seen the mistake, and you try to find that delete button as quickly as possible so you can fix your mistake.
Luckily, it doesn't have to be like that when you install the Grammarly browser extension.
Create a (free) account with them, and it starts checking most text fields to ensure your writing is correct. Their extension will also provide suggestions for better writing and synonyms, automatically fix obvious spelling errors, and so much more.
It sure does help us to make sure that whatever we write is written correctly.
Pricing: Free and paid plans
Available on Chrome, Firefox, Safari, and Edge and also works in Google Docs and on your computer with their computer applications.
Digital marketing extensions
#15 Revue – Easily add content to your next email newsletter
Although the future of Revue is not quite clear yet after the recent take-over at Twitter, it is still a great, quick, and easy newsletter system to send curated newsletters to your followers.
Their promise to be the easiest way to create and send a curated newsletter is certainly true.
Especially when you install their browser extension, which easily lets you curate content for your upcoming newsletter.
Already have your newsletter somewhere else and still want to be able to use that superpowerful native integration from Revue on your Twitter profile to let people subscribe to your newsletter without leaving Twitter? Have a look at these repositories on GitHub that lets you sync your Revue subscribers to Encharge or MailChimp.
Pricing: Free
Available on Chrome, Firefox, Edge, and Safari
#16 Panda – Discover huge amounts of interesting, entertaining content
If you want to stay on top of everything which is happening in the digital marketing world, you want to have the Panda extension installed in your browser.

Panda is a simple, free news reader that replaces your new tab so you can stay informed with all new content that matters the most for digital marketers. Websites like Dribbble, Product Hunt, GitHub, Hacker News, Medium, and many, many more (200+ news and inspiration sources are available to choose from).
It also features the ability to bookmark and read content later, and it even has dark mode!
Pricing: Free
Available on Chrome (with Firefox in the works)
#17 Buffer: Share content easily
As an official partner of Buffer, we could not leave this one out of our list, of course. Just like the Revue extension allows you to curate content straight to your newsletter, the Buffer browser extension will allow you to schedule and manage posts across different platforms.
Super helpful if you see that piece of content that you think will do wonders for your followers and you want to add it immediately to your queue.
Pricing: Free and paid plans
Available on Chrome, Firefox, Safari
#18 1Password: Free password manager
Nothing worse than finding out your social media accounts got hacked because you used "password123" again as the password to protect the company's social media account.
If you want to have a proper sleep at night, and don't want to worry about your accounts getting hacked, maybe it's time to upgrade to a proper password manager that lets you generate passwords you will never be able to remember and get hacked (no worries you don't have to remember them, just one master password)

By downloading the 1Password Browser extension, you will not need to remember dozens of passwords for each social media platform. This password manager will do it for you.
Plus, you can safely share your password with anyone (even if they don't use 1Password themselves), so you can safely share your passwords with your colleagues without any problems.
Pricing: $2.99 per month
Available on Chrome, Firefox, Safari
Over to you: Which extensions do you use?
Browser extensions can be your time savers; they can extend your capabilities, inspire you, help you stay focused, and so much more. Most of the extensions discussed here are free or have free options available for you to enjoy. Best of all, they require no special skills or experience and can make your life so much easier.
We made this list based on our experience and which browser extension we use daily. But since there are so many browser extensions out there, maybe you have a favorite that did not make this list?
If you do, please share them in the comment section below, and let us know which browser you prefer to use daily. Maybe we missed one or two extensions that will help speed our workflow even more!