If you're working in social media, you probably couldn't escape the recent news of Elon Musk taking over Twitter. With this take-over, lots of companies decided to halt their advertising budget on the social platform, and then there's another big spike of people looking for alternatives.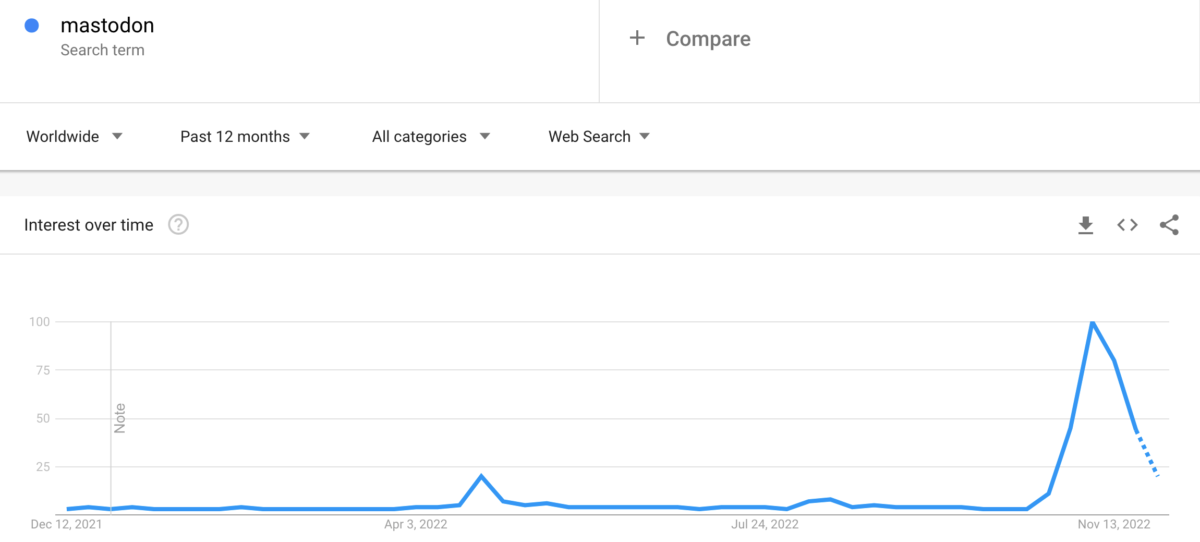 Some of these social networks getting some extra time in the spotlight are old familiar ones like Tumblr, but probably one you heard the most popping up is Mastodon.
And let's face it, that is mostly because Mastodon looks like Twitter. It has hashtags, political back-and-forth, and tech banter jostling for space with cat pictures.
Curious to learn everything about Mastodon, how it works, how to sign up, and how it compares to Twitter?
Then read on as we'll walk you through everything you need to know.
What is Mastodon?
First of all, what is Mastodon? Mastodon isn't new, as it has been around for six years. It was created outside of silicon valley, in Germany, and is an open-source network that at the moment has 5.6 million users spread over almost 11,000 servers.
With an average usage of 2,5 million active users last month, it doesn't come close to the 206 million active users Twitter has, but it has seen a huge rise in popularity over the last month.
It was created by Eugen Rochko in 2016 with the ambitious vision of democratizing social media after becoming disillusioned with its main competitor, Twitter. Like Twitter, though, it offers microblogging capabilities, but you can create a post (previously Toot) of up to 500 characters compared to the 280 with Twitter.
Unlike Twitter, Facebook, LinkedIn, and other popular social networking sites, it doesn't want top-down control. It wants its users to create their own social networks using the open-source technology that powers the network.
So how do they do this?
It's not-for-profit
Well, Mastodon, unlike its competitors, isn't a business that has to take shareholders into account. Mastodon became a non-profit organization in June 2021. So the primary purpose is working towards goals that are better for the common good of humanity instead of a bunch of stakeholders.
A big part of the platform relies on a network of volunteers, although it is excepting donations to help pay for certain key roles the organization needs to move forward.
It's open source
Another big difference between Mastodon and other social media competitors is the fact that it is open-sourced under the Affero General Public License v3.0. Meaning that everyone who takes the source code and makes alterations must publish it back to the community and thus help move the project along.
The source code is owned by the community, and you can't just take it and claim it is your own, something that Donald Trump learned in 2021 when he used this source code to start his own social network called Truth social.
And finally, Mastodon is a federated social network. Unlike Twitter, or Facebook, which displays all content from all their users to everyone on one unified platform, with Mastodon, you can choose which server you want to join. And as each server has its own distinct rules, community, and moderation. That is something to think about and what we will highlight more in the rest of this article.
This doesn't mean you can't see the content of people from other servers because all of these server instances are interconnected with each other, but the priority of your experience will be around the server that you chose to join the moment you create an account.
All these servers connected to each other are called the "federated universe" or "Fediverse" in short.
Is Mastodon better than Twitter?
At first glance, both networks look quite the same, besides maybe the possibility of sharing longer messages on Mastodon. Especially up until recently when posts on Mastodon were still called "toots" instead of "tweets," but the big difference comes with its big diversity in servers on their Fediverse.
Next, Mastodon is completely free to use and doesn't even have ads. For the end-user, this sounds great as there is no reason for the site to collect user data, unlike any of its competitors.
Unlike Twitter's recent blue-ticked fees fiasco, becoming verified on Mastodon is easy too. Mastodon's user verification system is available to anyone who has their own website listed on the profile page. Once administrators think your site is legitimate, they can verify any user without needing a monthly fee.
"I have been working very, very hard to push the idea that there is a better way to do social media than what the commercial companies like Twitter and Facebook allow." – Mastodon's founder, Eugen Rochko.
Click To Tweet
So for individual people, joining Mastodon, it might be a worthwhile alternative, but
Should you join Mastodon with your brand or business?
However, joining the social network might prove a bit more challenging for brands.
Sure, you can view not just the posts on your own server but also on the federated timeline across all servers, but this might not be something many people do.
Discoverability is limited on Mastodon.
And this exact reason might be the reason why some brands have not made the jump yet. It is difficult to reach the end consumers they want to reach in the app.
Of course, users can follow accounts that exist outside of their server (handles are in the form of "name@server", i.e. [email protected])and even belong to two larger, public servers—mastodon.social and mastodon.online—which are run by Mastodon itself.
Finally, Mastodon's feed is entirely determined by the chronology of the posts, compared to an intelligent algorithm that remembers what users view and changes their scroll of posts accordingly. Again, for the end-user, this might be a great thing, but this has the potential to make it more difficult for any post to go viral, and isn't that the holy grail for brands on social media?
How to create a Mastodon account
Convinced enough that Mastodon might be worthwhile checking out for you? Let's dive into the process of creating an account and finding easy-to-use apps for your mobile phone to use the network on the go.
Step 1: How to pick a Mastodon server
With so many servers to choose from, picking the right one for you seems quite challenging. However, if you don't like the first server you join, you can always take your follows and followers with you later when you want to migrate to a different server.
Here are some tips to help you pick a Mastodon server so you hopefully don't have to change afterward.
Of course, you can always join the biggest ones and the only two operated by the Mastodon organization: https://mastodon.social/ and https://mastodon.online/, but perhaps you want to take a little bit longer and think this one through.
Have a look at some of the potential other candidates that might be of interest to you and check:
What is the moderation policy on that server? As each server is allowed to create its own moderation policy, look at what types of content are allowed, what rules exist for content tags (not safe for work, spoilers), rules around harassment and hate speech, etc. You can look at a server's about page to find this out.
How long is the server in existence? An older, more established server might already have a thriving community that is more interesting to join and potentially is a more stable choice in terms of staying around. Maybe someone created a server just to see what the possibilities are and is not playing on keeping that server around, so this is something worthwhile to check out too.
What other servers can you interact with? In the server configuration, the administrators can also block access to other servers (for different political reasons or different moderation choices, for example). If you want to be sure to see all content you want to see, make sure that the server you want to join can interact with all other servers you want to see content from.
And finally, how quickly do you want to join Mastodon? While most servers allow you to join instantly, some servers have a manual review process or are even invite-only.
You can head over to:
the Mastodon server search tool, the official search engine to find the server that fits you best
https://instances.social/ (which gives you a bunch of questions to find the server that is the best for you)
Debirdify to find potential servers where your current Twitter followers are hanging out on Mastodon
to find the server of your dreams.
Step 2: Sign up
After identifying the server you would like to join and one that is also accepting new members, press "Create account" from the right-hand menu. It probably is best to reuse the same handle as your Twitter ID before so people can more easily find you or choose any other ID you would like to get if that one isn't available anymore.
Before signing up, you will most likely get a page with the ground rules of that server, read them through and if you are okay with them, click on accept before moving on to the actual signup process.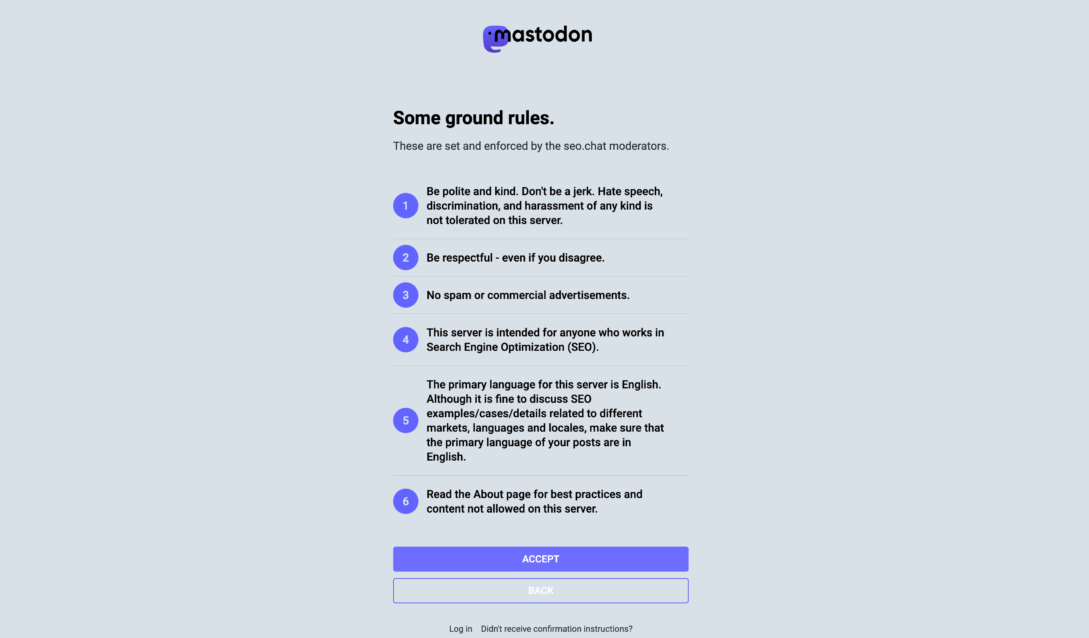 Then fill in your display name, your desired username, email address, and password. Some servers, like the https://seo.chat/ one, featured below, might ask you for a little bit more information to help with the manual review process to get access to that server. Click "Sign Up" or, in this case, "Get on waitlist" to get on the waiting list to get on the server.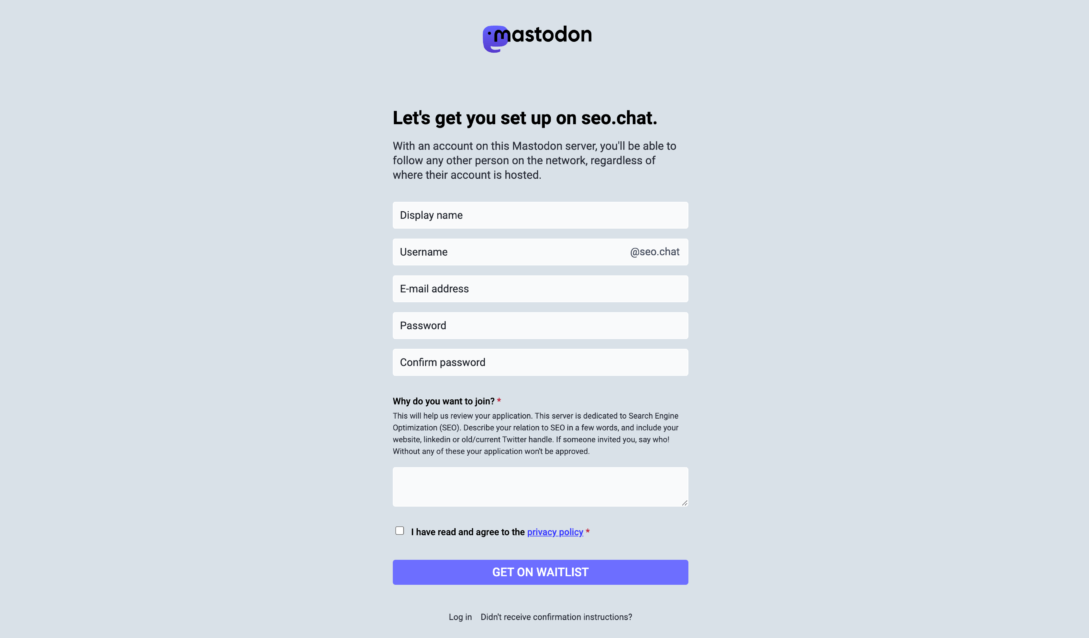 Right now, most of these Mastodon servers are a little overwhelmed, and many are asking new people to apply for a waiting list. The server volunteers are trying to weed out bots and bad actors. Leave a note, and you should, in most cases, get access in a day or so.
Of course, you can also get lucky and receive the confirmation email in a couple of minutes 🙂
Once you have access, remember which instance you used. You'll need to enter that server's address when you sign in using a different browser or another mobile app. You can't use those credentials to sign in on a different instance.
You can create different profiles on different servers or choose to transfer your data from one server to another.
Step 3: Fill out your profile (and get verified)
Sure, after signing up through the mobile application, it will suggest a handful of people from that server that you can follow. But we suggest waiting for that step until you complete your profile and get verified.
This way, the people you start to follow and look at your profile can see the complete picture of who you are and why you might be an interesting person to start following back.
So head over to the settings, a lot of people avoid using their actual names on their profile, but we think it makes it a lot more human to know that there is an actual human being behind an account and not just some faceless avatar.
This makes it a lot easier to make friends, doesn't it?
Also, take the time to write a little bit about who you are, and make it personal. Again you're a person (unless you're a brand or business, but even then, there can be a person behind the brand) here to connect with other people.
Don't forget to upload a profile image (recommended size 400x400px). For now, maybe use the same one as on your Twitter profile so people can easily recognize you again. We suggest doing the same for the banner above your profile (suggested size 1500x500px).
The final thing worth mentioning is getting verified, as this works completely differently than on Twitter. On Mastodon, the only thing you have to do is have access to a website where you can modify some code.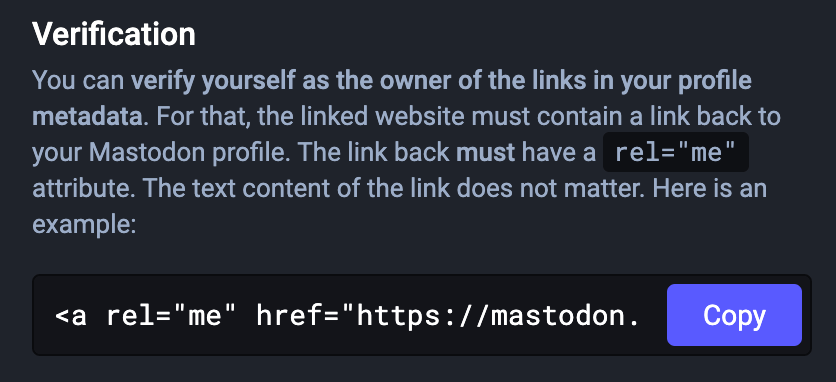 Using the rel="me" attribute (don't worry, you can just copy-paste a piece of code from your settings page) and pasting this on a website you control, you can let the Mastodon server you're a part of know that you are in fact, the person who owns that domain name, and this will add a green check mark to your profile.
Step 4: Start following people, finding your friends, and engaging with the community
Now that you've got yourself a beautiful-looking profile that will spark recognition from potential followers, it is time to start following other people and engaging with the community on the server you're a part of.
Here are a few ways to connect with the other people on Mastodon:
Use the explore section from the right menu (desktop) or tap the search icon (on mobile), which will take you to the discovery section. Here you can browse through trending posts, hashtags, news, a "community" tab (showing a live feed of people from your server), and a special "for you" section of recommended follows.
Search for people: using the search bar, you can look for specific names or handles to follow. This will also show you people on other server instances, so if your friends joined another server, no worries.
You can also find people through human-curated directories like this one located at https://fedi.directory/, which organizes people by topic and includes bio information for each.
You can use hashtags to find popular people in your niche or check the hashtag #TwitterMigration and filter using "People you Follow" or look for lists made by people migrating to Mastodon.
Or you can use tools like Debirdify and Fedifinder to look for people who have shared their Mastodon handle on Twitter.
Step 5: Introduce yourself and start delivering value
As most people on the platform are rather new and everyone is still looking around a bit about what to do, now is the time to start posting and making a new for yourself.
Although Mastodon is already around for quite some time, there is still quite the first-mover advantage. So just like with any good social media strategy, the best way to get engagement on social media, is by contributing and bringing value.
Compared to Twitter, which has a character count of 280 characters, Mastodon allows for up to 500 characters. You can also click on the icons below the post box to insert images, start polls, restrict who sees your messages, or include a content notice.
Here are a couple of things to keep in mind while posting:
Hashtags are more important on Mastodon because the search function only covers plain text for you and the people you follow. You'll need to use hashtags if you want other people to find your posts.
Mastodon does not have a Direct Message function. The closest equivalent is to use the post visibility tool to limit a post only to the people you've mentioned.
Mastodon does not have an equivalent to Twitter's Quote Tweet tool. This was a design decision intended to make the platform less incendiary.
Although Mastodon offers a Favorite function akin to Twitter's Like button, you can also use Bookmarks to save a post without others knowing about it.
Can you talk to people on other Mastodon servers besides your own?
Yes, talking to other people outside of the local server you joined is absolutely no problem, just like replying to their posts or favoriting or resharing a post of them.
What's the difference between the Home, Local, and Federated timelines?
You can compare the home timeline to the normal timeline on Twitter of the people you follow across all instances. The local timeline, as the word suggests, show you all posts from people that are on the server on which you are registered. You can compare this to the Twitter firehose of all tweets from everyone on your local server.
And finally, the Federated timeline shows you all public posts from people on yours and all the other servers of the decentralized network that are connected to your server.

Hint: You can turn on "Slow Mode" in Preferences –> Appearance to hide timeline updates behind a click if things are coming at you too fast!)
How to set up your own Mastodon server
As we mentioned, if you want to run your own Mastodon server and connect it to the Fediverse, this is possible.
However, setting one up is a little bit more tricky than just creating an account on an existing server, as you need to have a little bit of coding knowledge and access to your Virtual Private Server (VPS) or server instance at a hosting company.
If you're a developer, though, and have access to your own VPS, Mastodon has quite an extensive tutorial available, which boils down to
Establishing an SSH Connection and, when logged in, installing Docker.
Setting up code with Docker Compose.
Installing Mastodon.
Adding a Mailgun account to send confirmation emails, password reset emails, etc.
Make sure Nginx is enabled.
Get an SSL Certificate and launch Mastodon.
Automate Tasks and Administer Mastodon.
Refresh SSL
Start inviting users and hope you didn't make a mistake
What are the best Mastodon apps to use
Finding the best Mastodon app to use on the go can be a little bit tricky and time-consuming, as there is a steadily growing list of third-party apps available.
While many of them are free, there are also a bunch of paid clients. So which one should you choose the make the experience of using or potentially switching over to Mastodon as easy as possible?
The official Mastodon App
Well, of course, we have to kick off with the official Mastodon app, developed by Mastodon GmbH, for IOS or Android.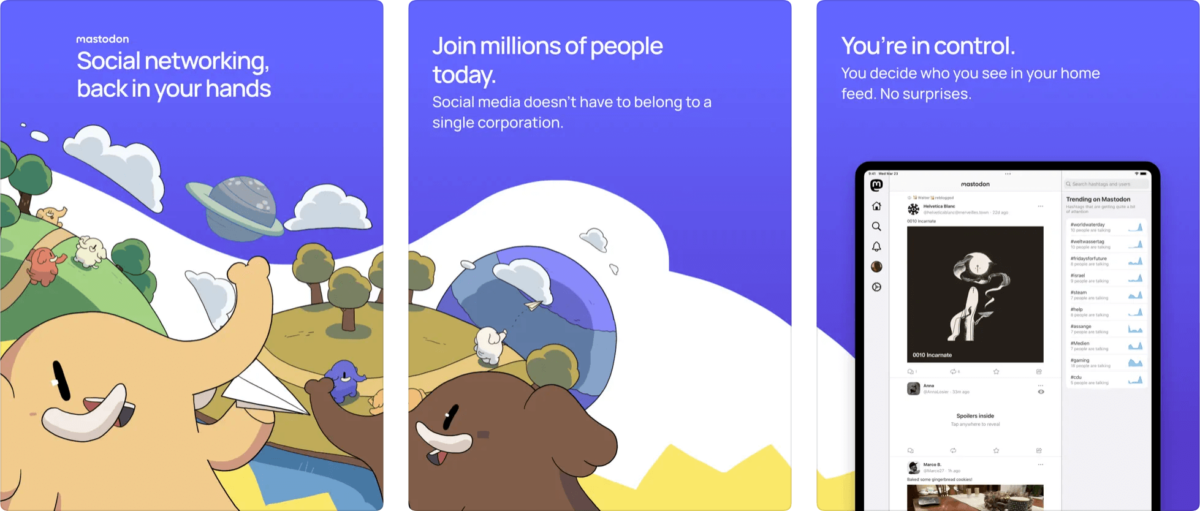 Despite being created by the maintainers of the original Mastodon.social server, the app comes loaded with a list of other public instances that you can join, divided into topical categories.
For people switching from the native Twitter app, this is probably the safest choice, as it offers quite the familiarity in comparison to that app.
Tusky for Mastodon (Android only)
Before there was an official app, probably the most popular one was (and maybe still is), the Tusky app.

Just like the Mastodon itself, Tusky is free and open source, maintained by a community of developers.
Compared to the official client, the app really shines in the extra features, such as scheduled posts, which are a must-have for social media account managers.
Metatext (IOS only)
With 4.5 out of 5 stars in the app store, there is a reason why people love Metatext, it is fast and easy to use, and has the ability to support most of the features of the web version.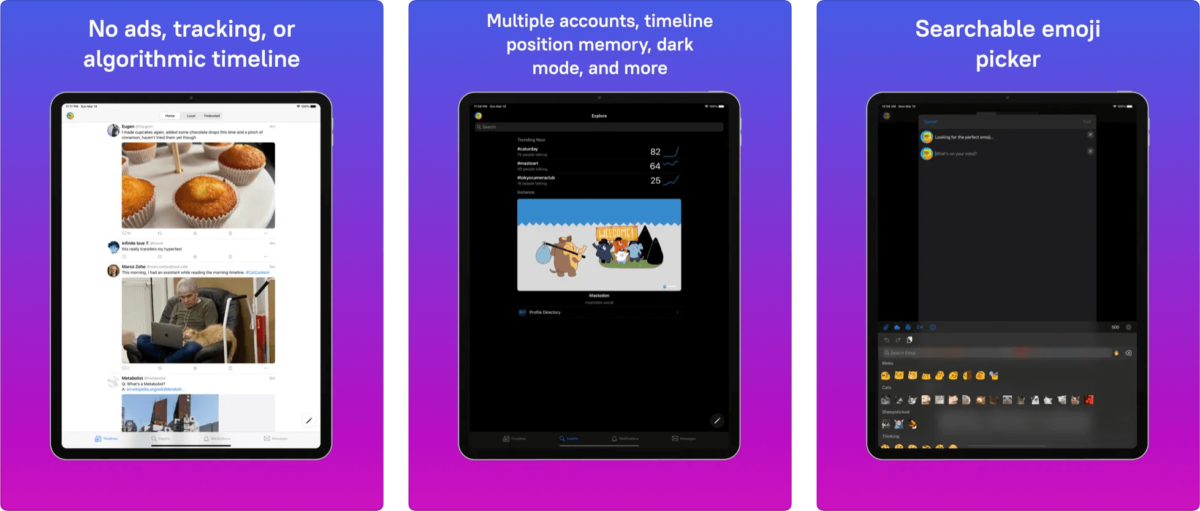 Another feature favorite is the app's complete absence of ads, tracking, or algorithms, so users can view their feed how they want to and not worry about privacy violations.
As far as free apps go, Metatext is a great companion for Mastodon users.
Now that we covered all the basics on how you can start to use Mastodon, the question will be:
Are you going to switch to Mastodon or start creating an account?
In many ways, it might feel the same as your used to on Twitter, with some nuances here and there that are different, but most of your friends and followers are probably not on there (yet). So you need to start creating new communities with new followers. This, of course, has its ups and downs, but that is for you to decide whether or not it is worth the time and investment.
Next to that, as Mastodon isn't backed by big bags of venture capital but instead is run mostly by volunteers, sometimes, some things might feel a little rough around the edges, with most of the functionality still limited to the web version.
And while it is most of the time the number one spot when searching for "Twitter alternatives," we're not fully convinced Twitter is going away any time soon.
What do you think? Will you be joining Mastodon? Or did you already join, and what is your experience?
Leave it in the comments below.
And if you think we should add Mastodon to our line-up of supported social networks, do give it an upvote on our public roadmap, as we're curious to see what the interest for this would be.