If we were to ask you, what would you rather have, 1 million followers on your social media channels or ten thousand engaged followers on your social media channels? Which one would you pick?
Most of the time, social media engagement is something that most brands think of as an afterthought. While most people want to see their following numbers increase, they often fail to increase engagement and build an engaged audience.
You probably have heard your boss say at one point in your career: "can't we just buy some followers?"
The overlooked thing here is that 1 million followers might look nice, and sure it can help bring in some social proof, but an account without any engagement is destined to fail.
When you build a meaningful relationship with your followers and engage with them regularly, you can quickly turn them from fans into customers.
The time you spend building those relationships with your following can bring a higher number of sales, increase customer loyalty and customer relationships, and help get more positive reviews, giving you the social proof in a different way.
This, however, is not a one-stop thing. Social media feed algorithms are updated all the time and most of the time without any notice. So yeah, your social media engagement is something that can always be improved upon. There is no maximum engagement level for your to reach, but the more engaged your audience is, the more that other people will see your post, and the better you're on your way to achieving those social media goals.
So with this post, we're going on a deep dive into social media engagement. At the end of this post, you will be able to understand better and answer the following questions:
What is social media engagement?
How to create engaging social media posts?
How to measure social media engagement on the most common platforms?
How to create a social media engagement strategy
Which social media tools can you use to create engaging content
And so much more. Let's dive straight into it…
At its core, social media engagement is a way to measure the interactions between your brand and your audience on social media.
Yeah, sure, this might sound a bit vague, so practically, you can think of things like the amount of
Likes and favorites
Comments, Mentions, DM's, or replies to your content
Shares and Retweets
Saves and clicks on your content
Engagement helps you better understand how your audience perceives your content by looking at the interest they show and how they react to it.
Engagement is a two-way street, though. Without engagement, after all, social media is just media.
People don't use social media for a one-way experience; they're using it to build connections with both people and brands.
It might have started as a way for people to hang out online with their friends, but it has become a place where companies like yours and other brands can engage in meaningful conversations. Those meaningful conversations can turn these people into followers and, hopefully, also customers.
The more engaged your audience is, the more significant its impact on your business. It is affecting everything from brand awareness to customer loyalty.
While it may seem easy for companies to get in front of their customers, it's one of the most effective ways to reach your target audience.
As James Cameron would put it:
Hope is not a strategy
So before you start thinking to yourself, if I just start sharing some random content and all will be okay, you might want to think again.
Thankfully for you, we've got you covered, so let's dive straight in.
Analyze your current engagement
Before you can go anywhere and decide what is currently already working, what times to post for optimal engagement, etc., you need to know your current numbers.
With this baseline written down somewhere (an Excel sheet is probably the most accessible place to start), you know if all your efforts will positively or negatively affect your overall engagement.
So, where to get these numbers?
While some excellent paid analytics tools out there will considerably help you save some time, let's focus right now on the great tools that are freely available, as you're probably already paying for so many different tools.
The first tool to consider is already implemented on most websites: Google Analytics. Sure, Google Analytics isn't a dedicated social media reporting tool, but by looking at their reports, you can still figure out the following:
Which social media platform is currently driving the most traffic
Which content on your website is driving the most leads and attracting the most traffic via which social media network
Using their demographic insights to get to know your audience better
If you've set up goals (which you should), you can calculate the Return On Investment (ROI) of your social media campaigns
So as you can see, just a basic implementation will already get you some pretty valuable information. If you're using UTM tags in the links that you're using in your social content, you can even drill down to which specific message is bringing you the most traffic and leads.
How to find these reports: When logged in to Google Analytics, Click on Acquisition > Social > Overview. And you can already get insights into which platform is driving the most traffic. If you're looking for demographic information, go to Audience > Demographics > Overview, and to get an idea about your ROI, go to Conversions > Goals > Overview
Pro tip: You don't need to know how to write code to include those UTM tags in your social media posts. If you're using the Evergreen Content Poster for sharing your content, this can be done quite simple by enabling UTM tags in the settings:


All major social networks have their own built-in analytics tools and dashboards that will help you get some great insights into how your content is performing. And, of course, Facebook is no different.
If you're the admin of your page on Facebook, you have access to Facebook Insights.
Facebook Insights will give you the full stats behind your content, your fans, and the reach that you're getting. If you want, you can even set up a "Pages to Watch" and see how your competition is doing.
How to find these reports: By just clicking on the Insights tab in the menu bar to get the complete overview of all the statistics, you can quickly see how an individual post performs by clicking people reached the bottom of any of the posts on your timeline. This will give you a pop-up showing the full stats of that individual post.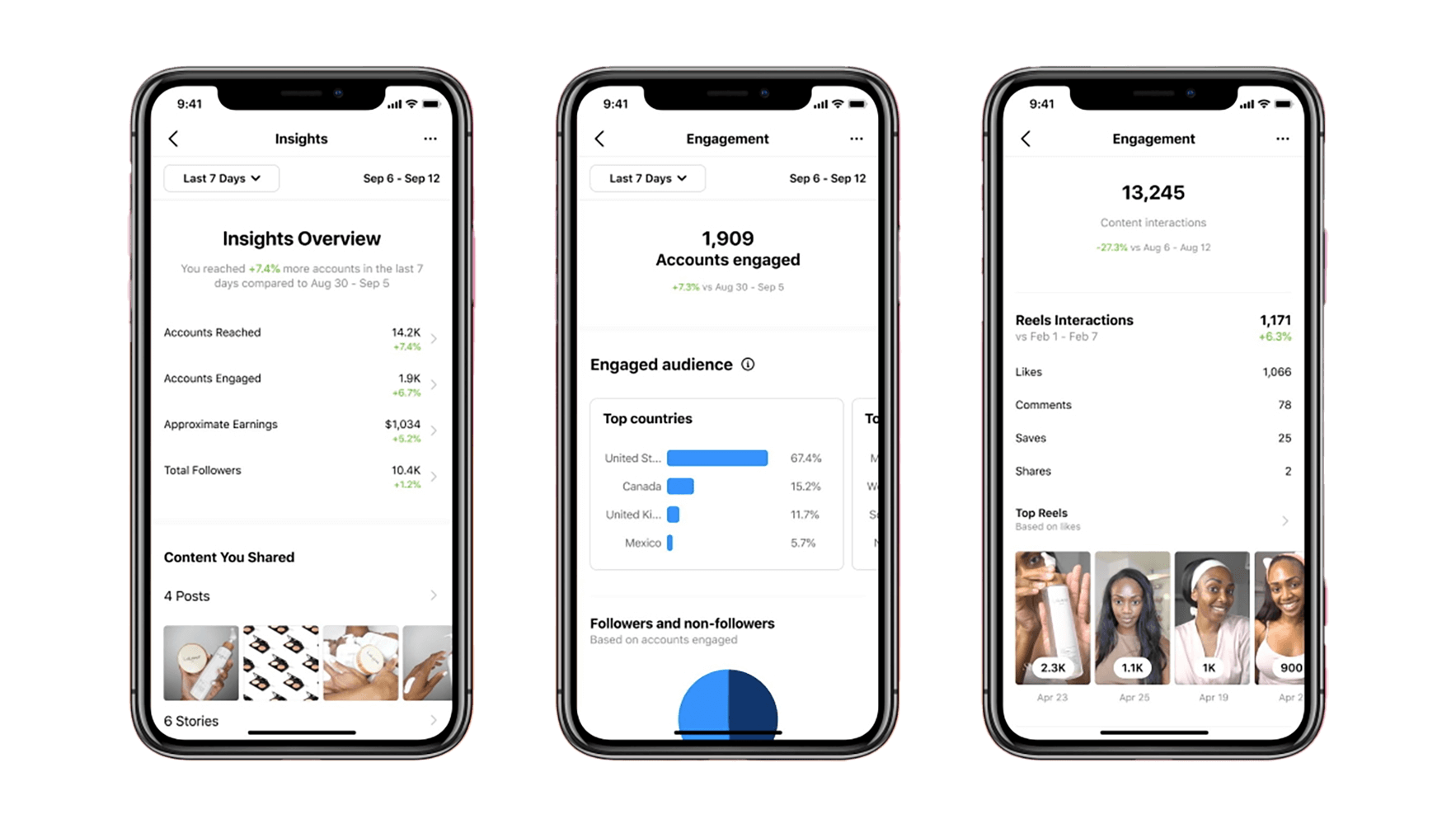 Instagram insights are only available for Instagram accounts with a Business Profile (if you did not have this already, activate this now in the settings of your account).
Instagram Insights, just like its sister Facebook Insights offers you a wide range of insights about your profile, post engagement, the stories you published, the reels you shared, and ads. Next to that, it can also give you detailed information about your current followers, for example, when they are most active on the platform and at which time and day.
How to find these reports: As Instagram is still mainly a mobile-only app, you won't find these insights on the desktop. So open the application on your mobile phone, go to your profile, and tap on the insights button below your profile description. Next to that, you can also quickly see individual stats for each post by clicking the "view insights" link straight underneath the post.
Like Instagram Insights, TikTok Analytics is only available for people with a TikTok Business Account. TikTok says these accounts offer "creative tools that empower businesses to think like marketers but act like creators." So yeah, if you don't have a TikTok Business account yet, it is time to upgrade.
Doing so is relatively easy, though:
Go to your profile page.
Open the Settings and privacy tab (the three lines in the top right corner).
Tap Manage account.
Under Account control, choose Switch to Business Account.
Choose the category that best describes your account. Tiktok offers categories from Art & Crafts to Personal Blog to Fitness to Machinery & Equipment. (Is #bulldozertok a thing?)
From there, you can add a business website and email to your profile. And those precious analytics are all yours.
How to find your TikTok Analytics: Depending on whether you're using the mobile app or are on your desktop, finding your analytics is relatively straightforward. On mobile, you just head over to your profile, tap the hamburger icon in the top right corner and select Creator Tools from the menu that appears at the bottom. From there, select analytics, and you're good to go.
On Desktop, you simply need to hover over your profile picture in the top right corner and select View Analytics. Want to download your analytics data to do some further analysis by yourself? You can only do this on the desktop.
TIP: TikTok Analytics only displays data for 28 days before expiring. To avoid missing out, regularly check in to report your progress. On a desktop, you can download a CSV file for safekeeping.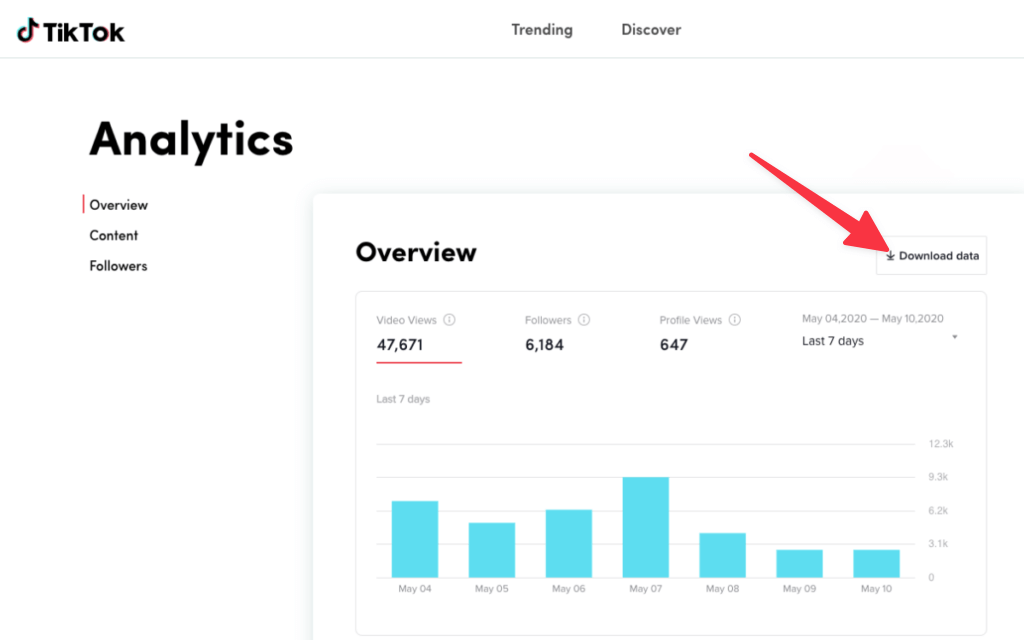 TikTok gives you four categories to work with for your analytics: Overview, Content, Followers, and LIVE.
Overview analytics shows you: general analytics from the last week, month, or two months—or you can choose a custom date range.
Content analytics shows you: which of your videos have been the most popular within a selected date range. It also provides information about each post, including metrics like views, likes, comments, and shares.
Follower analytics shows you: demographic information about your followers, including a breakdown of gender and what part of the world they're viewing from. You can also see when your followers are most active on the app.
Live analytics shows you: insights on live videos you have hosted within the last week or month (7 or 28 days). These analytics include follower count, time spent live, and how many Diamonds you've earned.

Twitter shows you a summary of the last rolling 28 days, plus an overview per month. It shows you how many people visited your profile, how much your profile has grown in terms of followers, post engagement, tweet impressions, and the best mentions you've got. Next to that, it will also give you a deep dive into the impressions of your tweets, details on engagement, etc.
How to find these reports: If you're logged into your Twitter account in your browser, simply head over to analytics.twitter.com to find the data you're looking for. Or, just like Instagram, you can also see each tweet's analytics by clicking the little bar chart icon next to each tweet. It will give you a complete breakdown of that tweet's engagement.
Next up is Pinterest. If you haven't thought about adding Pinterest as part of your marketing strategy, think again, as it can be a huge traffic driver!
The Pinterest dashboard will give you one of the best sources of data on your account: impressions and followers, audience stats, website engagement, etc. Plus, you can click go deeper by clicking on them and see which posts and boards are performing the best. Next to that, they also have an Audience Insights report, and just like Google Analytics, it will give you insights into the demographic and insights of your audience!
How to find these reports: Like Instagram, you will need a Business account, though. If you haven't done so already, convert your personal Pinterest account into a Business account. If you're still logged in (and otherwise first login), head to analytics.pinterest.com to get all the insights you want.
LinkedIn Analytics is targeted to Page Admins. For a page that belongs to your business, you can track the engagement on the updates and get a bunch of metrics about your followers and visitors. Plus, just like Facebook, it allows you to track your competitors.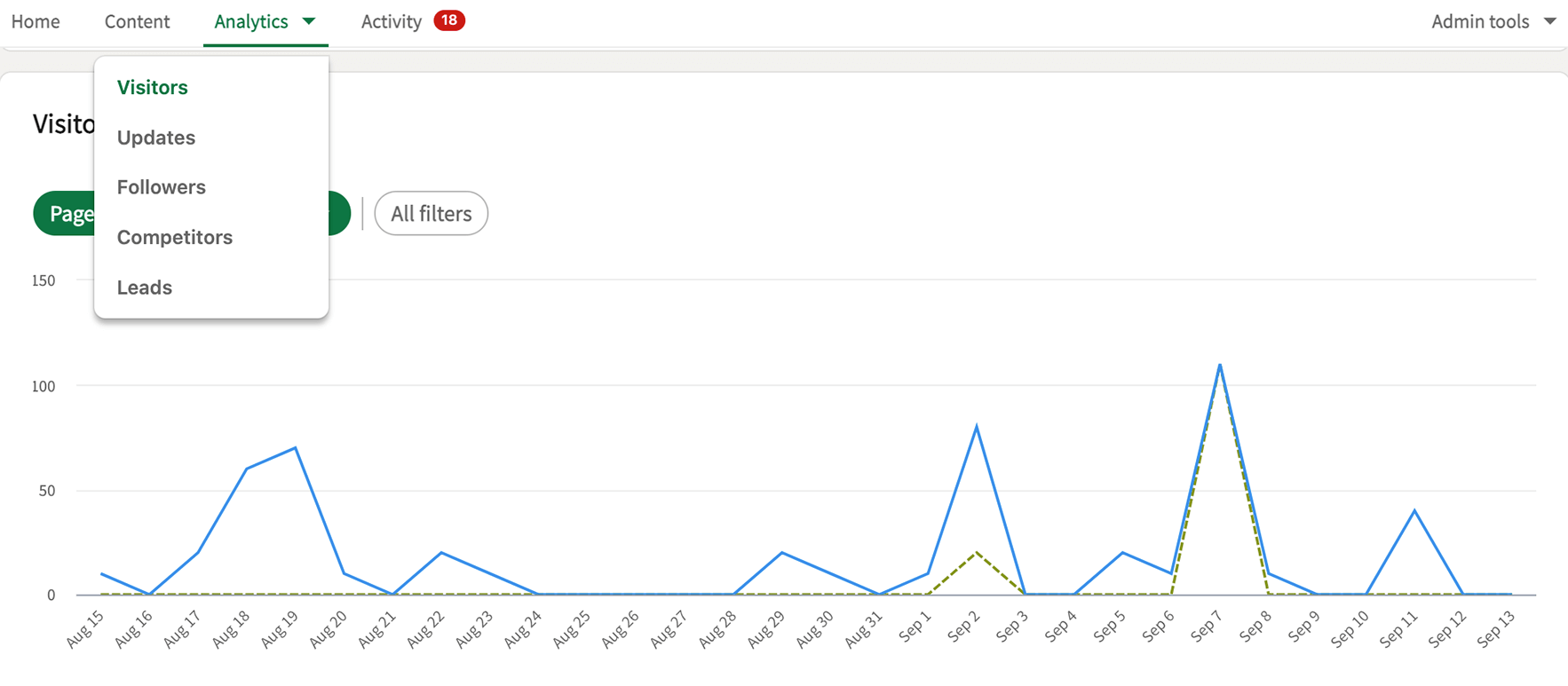 How to find these reports: Go to your company or organization's page and from the top menu, click on Analytics; it will then give you the options for visitors, updates, followers, competitors, or even an employee advocacy program. As an individual, you can also click on the little bar chart with the number of views your post had to get some demographic information about the people that engaged with it.
As a YouTube creator, you've probably heard about essential metrics like "watch time" and retention. For YouTube, maybe even more than any other social platform, these engagement metrics are the driving force behind your video potentially going viral or not. As a result, YouTube Analytics is one of the most impressive analytics dashboards you can wish for.
It gives you tonnes of information. Next to the ones already mentioned, you can find information about estimated traffic sources, how many views, how much money you've made, subscriber levels, etc.
How to find these reports: If you're signed in, then head over to youtube.com/analytics. Don't forget to click the "SEE MORE" button at the bottom, as that hides the real magic with things like geographical location, age, gender information, etc.
Know your audience
If we would ask you who you're audience is, do you answer with "everyone"?
Unless your name is Google, you probably need to narrow down your target audience a bit for you to know, for example, the best way to talk with them.
Because depending on the type of business you have, there can be a massive difference in how you talk to your customers compared to another company.
For example, if your target audience is stay-at-home dads, you would approach them differently than people working in the emergency room in the hospital, right?
Next to knowing how to talk to your audience, this will also help you better determine on which social platforms you should be active, what type of content to share, or when your audience is most active, so you can get the biggest sets of eyeballs on it.
When defining your target audience, don't be afraid to get as specific as you can, although if your business is just starting, you will probably start quite broadly. The more you share, the more you learn and the more specific you can get.
If you analyzed your current engagement in the previous step, you might already start to get a pretty good understanding of who your target audience is. Things to consider here are:
Age (you don't need to go too specific here, but you will probably not find someone 60+ on TikTok, for example)
Location and time zone (this helps most with figuring out what time to post your content, but different locations can also mean that you might need to translate your content from English into a local language)
Language
How much are they willing to spend on solving their problems (how much can they spend on potentially your solution to solving their pains, and how are they approaching a purchase, do they need to have case studies of lots of reviews before making a decision, etc.)
Interests (by knowing what interests your audience has, you can also "news jack" certain events to tie them even more directly into their lives)
Challenges (this one goes back to why you started your business in the first place, what is the pain your customers are having that you can help them with?)
Which life stage are they in? (The way you approach a student or a new parent is something completely different)
And if you're targeting other businesses, don't forget to take into account:
The size of the company (this one has a lot to do with the tone of voice and how people like to get addressed, also concerning the next item, who is making the buying decision)
The person that tends to make the buying decision (sometimes a product comes in via the employees that are looking to work more efficiently, but the actual buying decision will be made by someone from procurement or the CFO, for example).
Now that you know what you need to look out for, start by writing down what you already have. Maybe use some searches on social media as well related to the pain points you're trying to solve to figure out.
Maybe look at your competition to see which platforms they are active on.
Check your Google Analytics (see item above) to get a sense of where the most traffic is already coming from now)
Or go to Buzzsumo, and enter a relevant keyword for your niche in the search bar. And you will see a list of top shared content across social networks, including engagement data.
Try looking for patterns, which formats, and which channels seem to be working (note you can also create a free trial account if you are stuck with the free searches. And if you create a free trial account, you can also look into the analysis tab to get a breakdown of the most popular social networks in your niche)
Pro tip: When you have a better sense of your audience and already understand what tone of voice to use for your brand, head over to Amazon or other online stores selling books.
Try finding books that are targeted toward your target audience.
Then look at the reviews, ignore the five-star reviews because they're too gushing, and ignore the one-star reviews because they're too petty.
Focus on the three-star reviews because those contain the most thought, insight and honesty. They tell you exactly what problems they want to solve and what aspirations they hope to achieve.
Set goals and define metrics
You don't know what you don't measure. With the knowledge you have right now, you should set a baseline of social media engagement and come up with a set of goals.
Try setting clear engagement goals so you know what you need to focus on to move the needle.
For example, in this particular post, we're focusing on engagement. So if you want more engagement on your posts, you know you need to focus on creating interesting or exciting content for your audience (more on that in the next part). In that case, the metrics you need to focus on are, engagement specific:
How many people interacted with your posts
What types of engagement did they execute
Is your follower base increasing
And while engagement on social media is super important, if you don't want to have your audience only see your content when you put some ad budget behind it, always try to tie your goals back to sales and revenue as well.
Likes don't pay the bill. Sales do.
Likes, like any other Key Performance Indicator (KPI), are an indicator it tells you how good you're doing, but it is not the whole package. The end goal of getting more engagement is for brands and businesses to strive to make real connections with their audiences.
See, we put the emphasis on real because only real connections will make these people buy your product.
What makes a post, an engaging post?
Okay, so now you know what topics your (potential) audience is interested in, we need to start creating engaging content to keep them hooked to your content.
Social in social media means you must fulfill the promise of seeing communication as an exchange. Social media is not a broadcast tool but a place for conversation. People come on social media to see or read helpful content that addresses their needs and pain points (and yeah, of course, bringing a smile to someone's face can also solve a pain point).
According to the Sprout Social Index of 2020, they identified what types of content people are looking for when using social media. 68% of people are looking for images, 50% are looking for video content, and only 30% of people are interested in text-based content.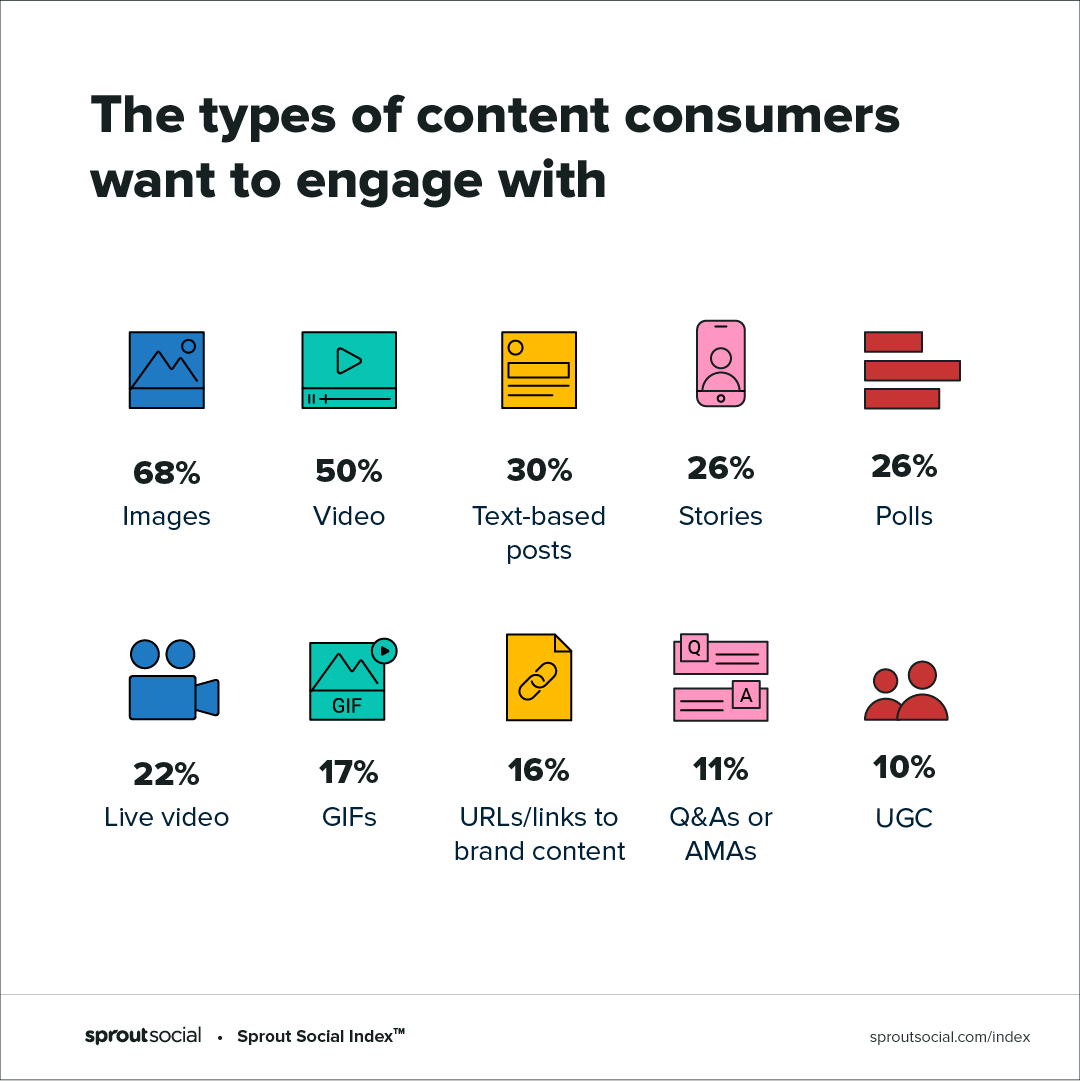 As you can see, the social media world is a visual place, and the age-old saying "a picture is worth a thousand words" still holds true.
So let's dive into how you can use all of this information and turn them into engaging content for your followers.
1. Talk about your industry (not just your company)
As we said, people come to social media to be entertained or to learn things (that is why "life hack" content is scoring so well). They are not in a buying mindset, although that doesn't mean you can try to "sell" them sometimes.
If all of your social media content is just focused on promotional content, inviting people to buy your products, you will probably lose the attention of your followers. But most of all, you will also lose engagement.
See social media platforms to know how often and how you interact with content. If you're posting content that isn't of interest to your following, they won't show your content organically in their feed.
So don't only talk about your brand. Talk about the topic of your industry in general, and find content that fits in the broader topic of the problem it is that you're trying to solve with your product or service.
Sharing and liking the latest posts on the trends and issues relevant to your industry is a great way to show support and involvement. Assuming you are sharing or responding to content that is fair and doesn't spark the offense, engaging with these posts will help to strengthen your reputation. You demonstrate to users, whether they are potential customers or not, that you value the social happenings beyond your business which generates respect and admiration for your brand.
Maybe use some wit and humor to make it more entertaining and engaging.
How?
Maybe you can come up with some puns related to your niche. Or try creating memes by taking famous memes and inserting them with captions related to your industry.
Whatever you do remember, there is more than just your brand. Make your content useful and of value. Don't be one of those people at a party that only talks about themselves!
2. Join Question & Answer sessions
If your brand is just starting and isn't known as an authority yet in your industry, or even when you're already known but want more people to know your expertise, it is always a great thing for a brand to join online Q&A sessions.
Head over two Twitter and use relevant search terms to find Twitter chats, use the search box on LinkedIn to find public posts where people are asking relevant questions, find questions on Quora that are relevant to your business, and answer them.
There are so many places on social media where people are asking questions, so it will be easy to jump on board.
And maybe if your business is getting a lot of questions, you can host your own Q&A (live) sessions on YouTube or Twitch.
Gary Vaynerchuck is a great example of this with his #askgaryvee show.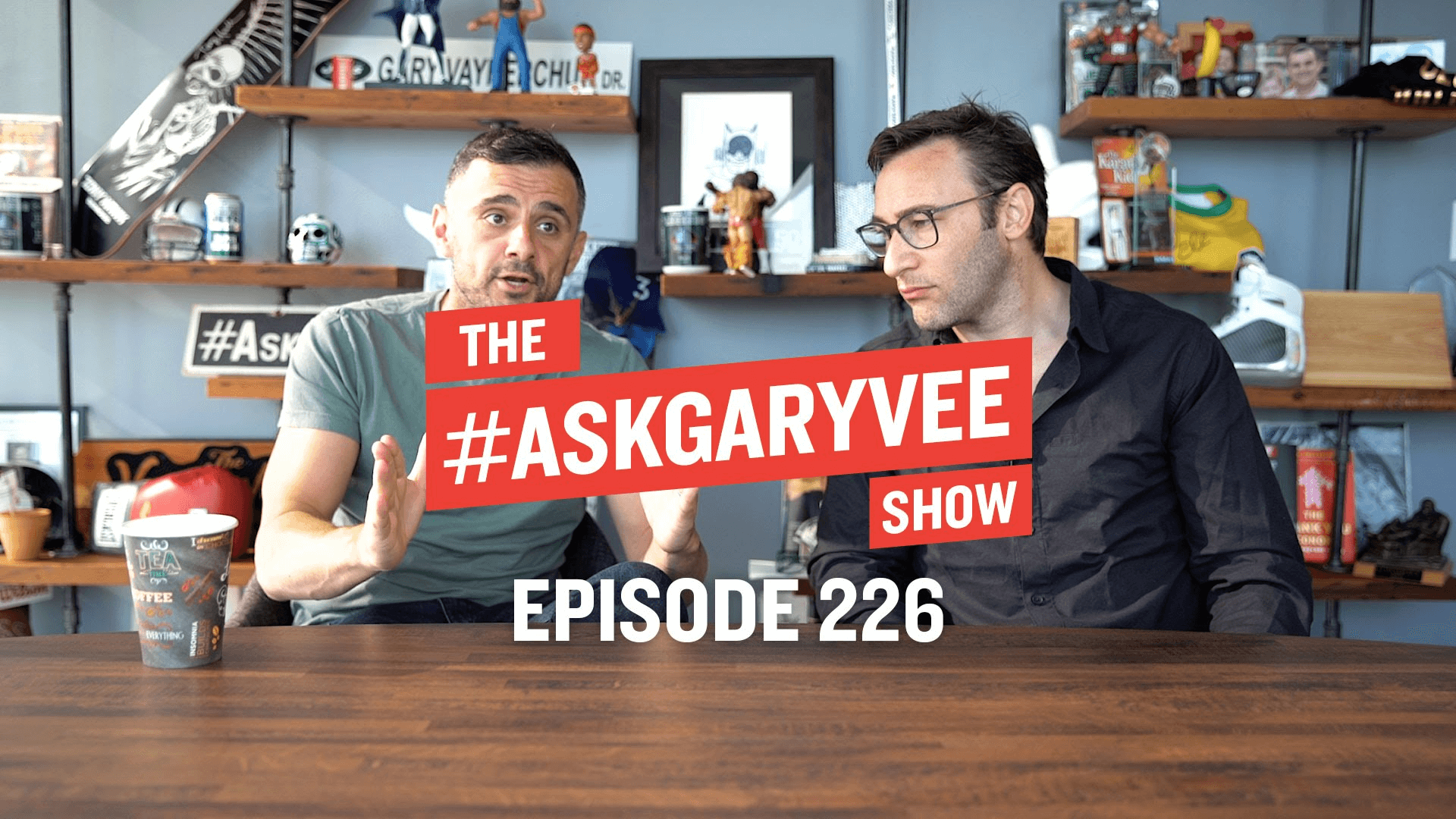 The other added advantage is that if you're giving relevant answers quicker than your competitors can do, this will allow you to become the go-to seller.
However, being the first to reply to questions with terrible content that isn't of use might damage your reputation and brand image. Our tip would be to have an internal wiki or document with the most asked questions your business is getting. Create answers already for them, so you can easily personalize and publish them whenever you need a quick response.
If you always need to create your own content, it can turn out to be quite time-consuming. As a small business or startup with a limited budget, this can dry your bank account pretty quickly.
An excellent way to be able to publish more content without spending lots of time and budget is to recycle content that others in your industry have already created and add your take on it.
This process is called content curation, and it can save you a lot of time and effort.
Another excellent example of sharing other people's content is by using a process called User Generated Content (UGC).
Giving control to your customers for creating your content might be a bit scary for a lot of companies. Still, it will also allow you to grow the amount of content you can share significantly. It can develop and strengthen your relationship with your users, and all that content linking back to your brand can also increase your SEO significantly.
Aaron Orendorff best describes the final reason:
You are not your company's best salesperson.

In fact – no matter how effective your training, incentive, or marketing programs may be — nobody within your business is as good at selling as your customers. This is why brands are taking advantage of user-generated content (UGC).
So retweet, regram, and reshare the content of your customers. It makes your customers feel special and worthy of going on your business feed, which will result in them replying again, screenshotting the evidence, sharing it on social media, etc.
4. Show, don't tell
Do you sometimes see those posts on social media that are just a massive wall of text? Unless it is written by an amazing copywriter (and even then, it will include a visual to help you to stop scrolling in the first place).
But we guess that you haven't read a word of it unless it might have been a post by your ex, then we know ;-))
The thing is, when a brand posts a wall of text like that, you will probably just scroll straight past the message.
So make your posts visual.
Include an image, GIF, or short video in your posts so they will become more attractive.
If you don't add a visual that makes your post stand out from all the other content in the feed of people, how will people stop scrolling on your content to consume and engage with it?
Adding visuals that stop the thumbs of people from scrolling is the first step in getting a reaction. And it is one of the most critical reactions, the motion of the thumb-stopping.
Although they don't work as great anymore as they would in the past, adding hashtags to your content on Twitter, Instagram, TikTok, and LinkedIn (basically everything except Facebook) will help other people to discover your content more easily.
People use hashtags to track discussions around specific topics and connect with people relevant to them.
As a result, hashtags help you reach more than just your existing followers.
6. Use the tools of the platform to your advantage, like polls and surveys
Each platform has a bunch of built-in tools that allow you to easily create super-engaging content.
One great example is polls.
They are super fun and easy way to connect and interact with your audience.
You can use them for serious things to gather some feedback that you want from your audience. Or you can use them in a fun and engaging way, like the below example.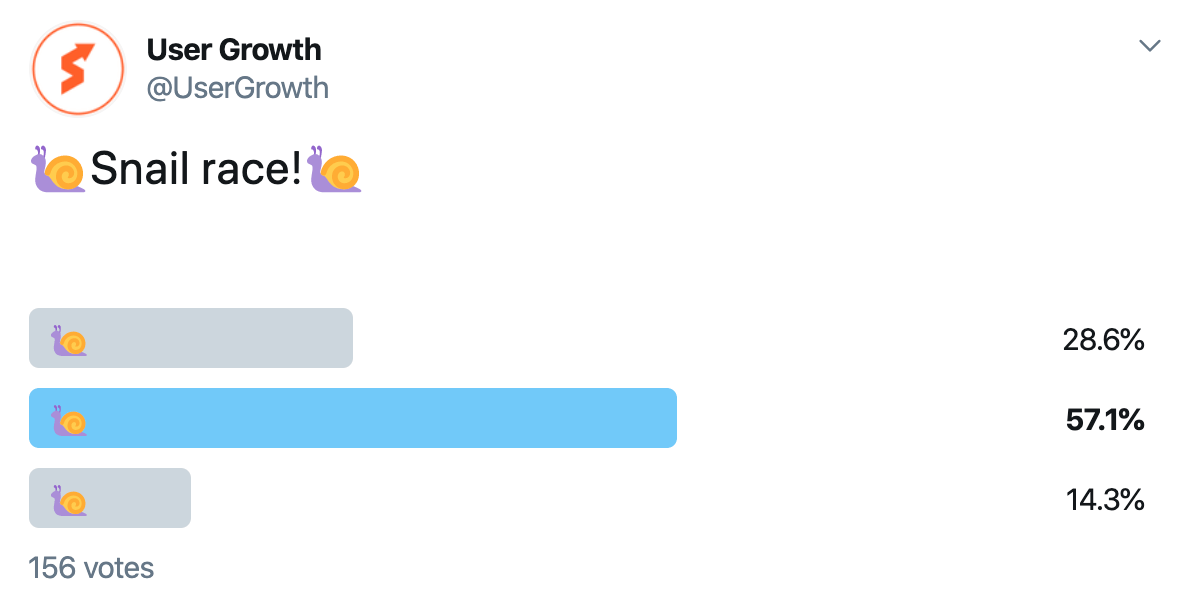 No matter which way you choose, it will be an instant hit guaranteed for lots of engagement.
7. Giveaways and contests
Freebies and gifts are always popular among consumers. As such, they're often used by companies to promote their products and services.(Plus the added benefit of it, that it is a great way to build an email list)
A lot of people don't even realize brands exist unless someone tells them about one. And if they only hear about your brand once, the chances are good that they won't remember it later.
That is where the famous marketing rule of seven comes into play:
It takes an average of seven interactions with your brand before a purchase will take place.
So why wouldn't we give them an incentive to tell everyone else about your brand and help the chances of letting people hear about your company from multiple different sources?
That is why contests are great ways to get people engaged on pages.
As long as people like your content, it's likely that others will too.
And if enough people share your posts, you might even reach an entirely different group of potential followers who may not know anything about you at all! Because it's relevant, they'll stay around to find out what happens next.
Remember to follow the appropriate guidelines when using different platforms, though; otherwise, you might jeopardize not only your contest but also your social media presence.
Here are the rules for, respectively, Facebook, Twitter, and YouTube:
TikTok doesn't have dedicated contest rules (yet), but they do have community guidelines you need to follow:
Like TikTok, LinkedIn has no official policies regarding promotion activities; however, according to their user agreement, they state that "all users must comply with our General Terms of Use." When planning promotions for LinkedIn, there are two key rules to remember:
State that LinkedIn is not responsible for the promotional action.
Do not use data scraping to get data from LinkedIn.
And with 64%% of social traffic to B2B websites coming from LinkedIn, this might just be the place for your B2B company to hold a contest!
8. Post often (and ideally when your customers are online)
Social media moves fast, and organic reach is declining year over year. That means that whenever you post something organically, the chances of your followers seeing it directly or even at all is getting lesser every year.
And especially on sites like Twitter, which is just a steady stream of content, if your followers aren't online the moment you post something, there is little chance they will see your Tweet (unless it gets lots of engagement).
That is one of the reasons we built the Evergreen Content Poster in the first place. By making content for your social media channels that get posted more than once (and even better, when creating unlimited variations of it, so on the off chance people see the same post twice that it is still a different post).
Grow Your WordPress Website's Social Media Traffic Using the Evergreen Content Poster
"Within 1 month of having the plugin fully set up, I've been able to get a brand new Facebook page up to a reach of 164,000 people, with very little effort! About 60% of my website traffic is currently from Evergreen Content Poster posts." - Laura Abraham
learn more
Followers and potential followers who don't know whether you're active or not may be less interested in following you than if they knew for sure that you were constantly posting new, exciting, or interesting material. Deciding to unfollow your social media accounts is pretty easy if people feel like they don't know you.
So make sure your customers know you by regularly publishing relevant, helpful content to them.
Now on to the social media content creation process itself.
We all know that creating content for your social media channels can take quite the time, and if you want to create engaging social media content, it will take even more time.
After all, with the guides above, thinking about what types of content you're going to create is something you don't have to worry about, but now you need to worry about how you can customize your social media posts for each platform.
For example, you might want to create an infographic to share on Pinterest or a video to share on TikTok.
But how can you find all the time to create so many different pieces of content for social media?
Thankfully there are a lot of great social media tools out there that can save you a lot of time so you can fill your content calendar for the coming month instantly and boost social media engagement for your business.
#1 Canva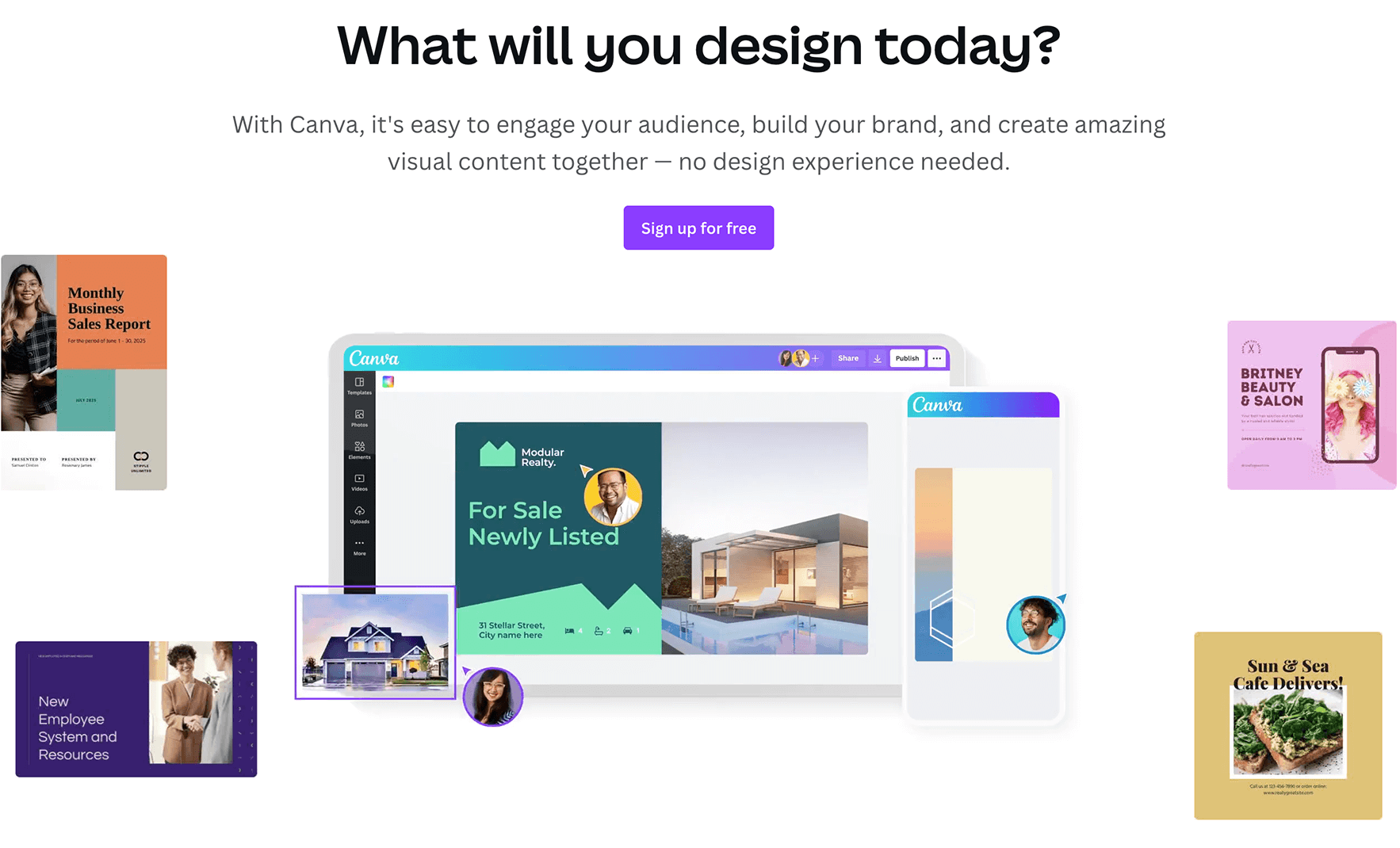 No social media photo and image editing tool list would be complete nowadays if you did not include Canva. Canva is one of the most popular tools out there if you want to create graphics for social media, as it allows you not just to create high-quality images quickly using layouts, templates, and design elements. Still, it allows you to collaborate on those designs with your co-workers easily.
They have a generous free plan, but for those that want a little bit more, you can go pro starting at €11.99 per month. Oh, and if you're a non-profit or an educational user, they offer you the pro plan for free!
#2 VistaCreate

VistaCreate is similar to Canva. It is the new kid on the block and offers more than 30,000 free design templates, 180 million photos, 32,000 videos, and 15,000 illustrations. Their free plan offers limited usage, and their pro plans start at $9.99 a month.
#3 Stencil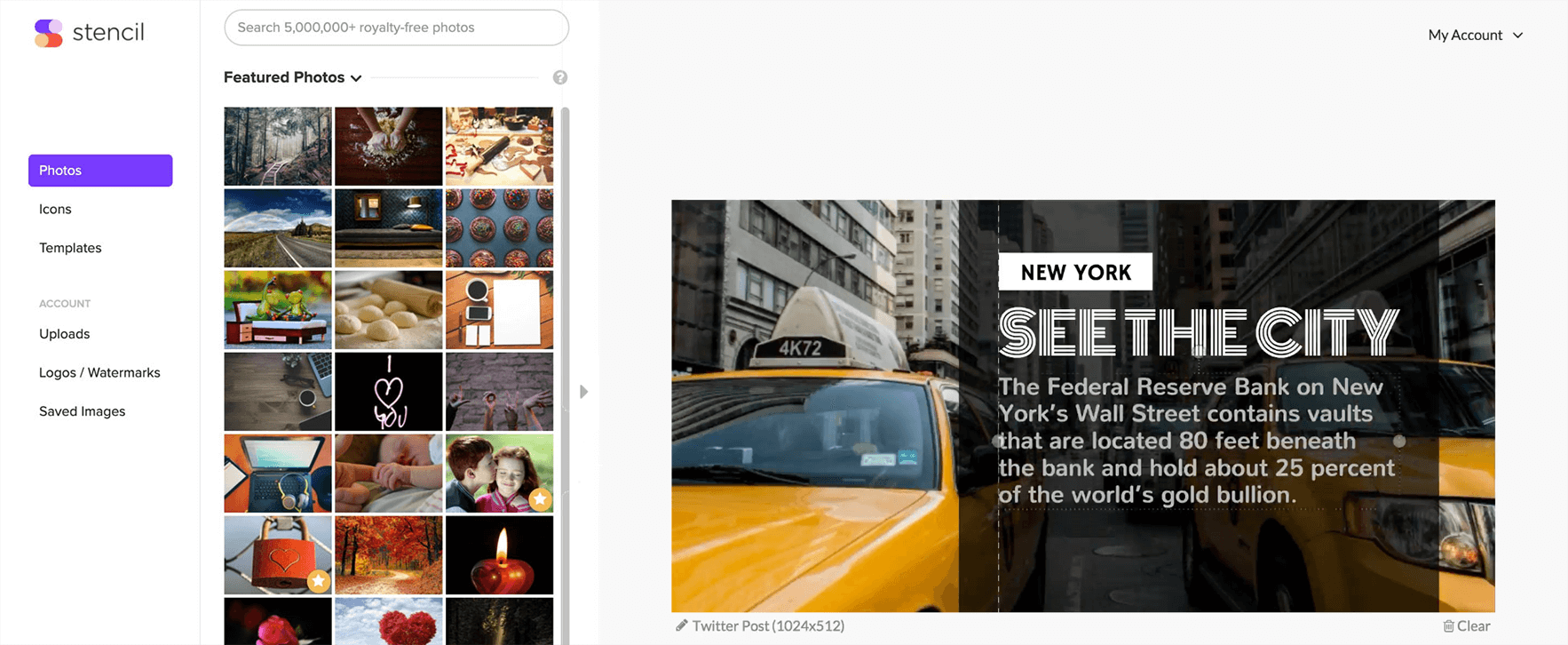 Stencil is built specifically to help you create social media graphics faster. Apart from its web app, it also has browser extensions, which you can use to create images from any website that you're on.
#4 Piktochart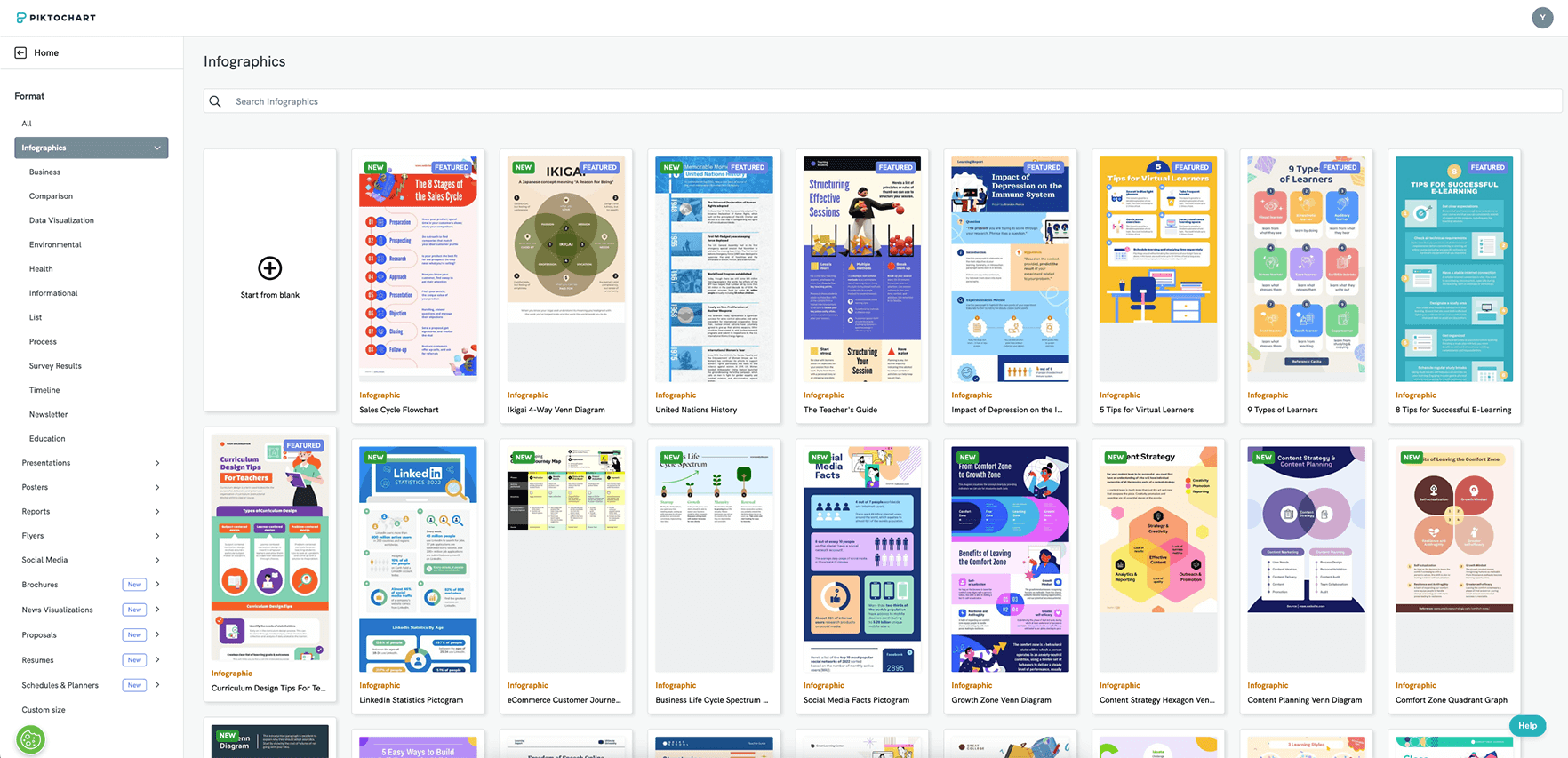 Social media images aren't always just a nice quote slapped on a background image, and with Piktochart, you can create infographics on the fly. With the free plan, you can create an unlimited number of graphics and choose from over 4,000 icons and images.
#5 Xnapper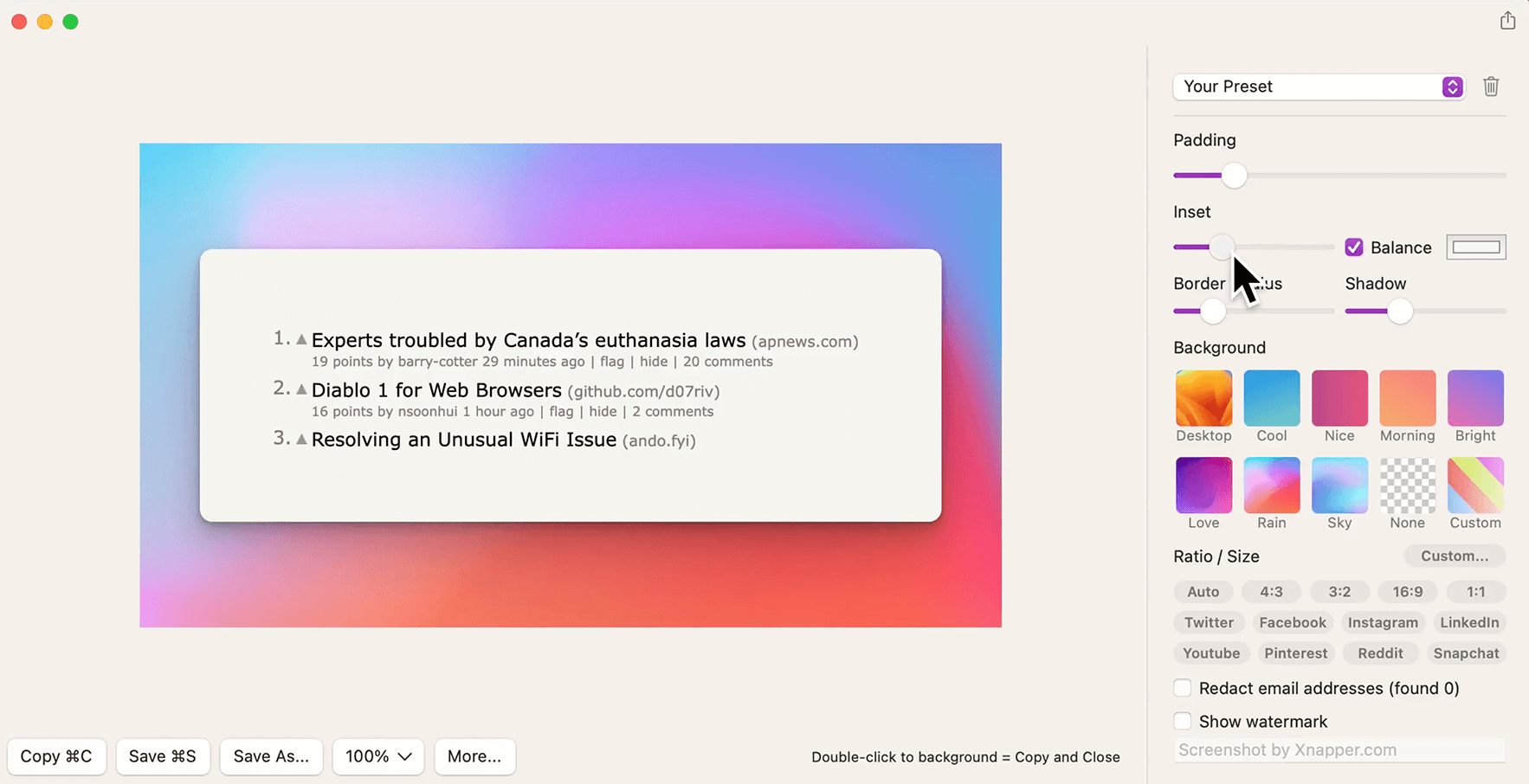 Our last recommendation is certainly not one of the least. With the growing popularity of indie makers building in public, people are looking for a way to share beautiful screenshots of what they're working on social media. Xnapper (pronounced snapper) is the tool that helps you do just that. Take a screenshot, annotate it, place it on a beautiful background and have it automatically cropped to the correct size of your social media network of choice.
#1 Lumen5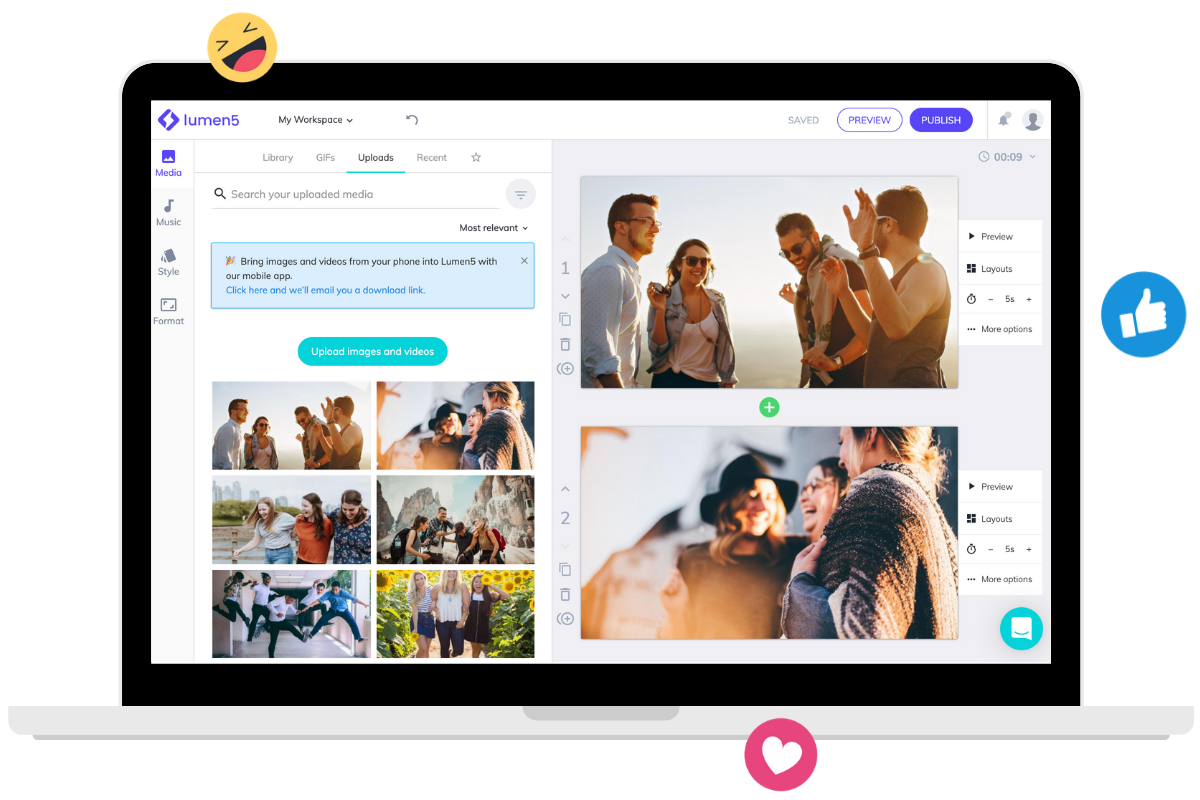 Lumen5 allows you to analyze the existing content on your blog and then automatically create a storyboard for you. It can even recommend relevant images and videos, which you can easily use by dragging them to the respective frames on the timeline. If you want to create beautiful, professional Instagram stories or another only video format but learning Final Cut Pro or Premiere sounds too daunting; you need this app. It's great if you want to quickly generate a video and promote your written content in an animated form. There is a free tier, but if you want to get rid of their watermark, you have to start paying at least $19 per month all the way up to $149 per month for custom watermarks, your own fonts, 500m stock photos & videos, etc.
#2 Animoto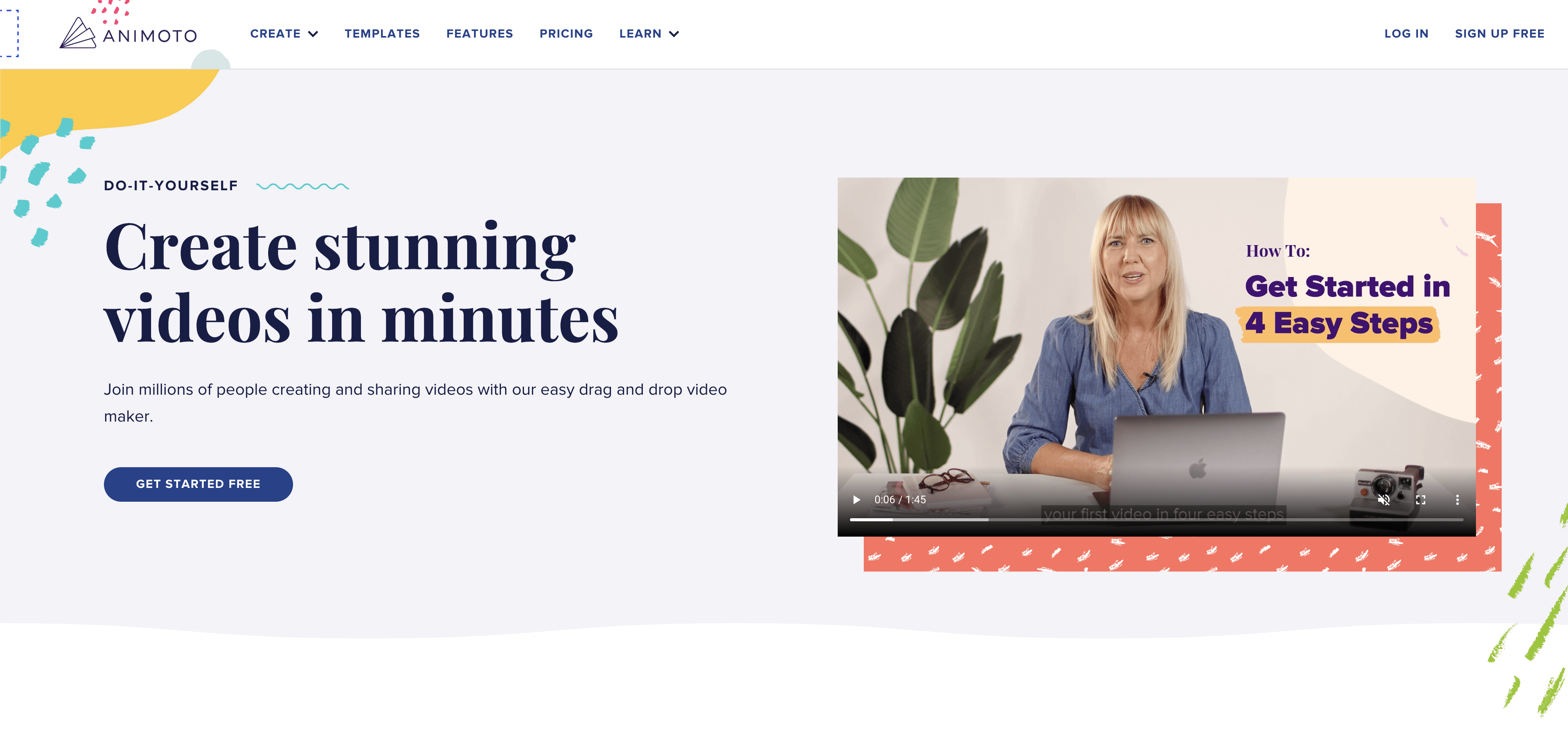 Just like Canva, Animoto is one of those companies that seems to be around forever already. It is a great video platform that allows non-experts to create captivating multimedia. Animoto allows you to turn existing video clips and images into video slideshows with little effort. You can either use one of their existing storyboard templates or build a video from scratch, depending on how much time you have and your ambition! You can create unlimited videos for free, forever. But if you want your videos without the Animoto branding or in HD, pricing starts at €7 per month. Great for not just making social media videos but also explainer videos, video ads, or training videos.
#3 GIPHY Capture
Yes, we know GIFs are technically not videos, but you can't talk about moving images online without talking about GIFs. After taking over the internet in the nineties, remember those Geocities websites. GIFs have made a massive comeback in the last couple of years, and GIPHY is the standard tool that everybody is familiar with.
It's completely free, and it gives you plenty of material to work with.
You can use some of the GIFs to make a point when mentioning your brand. But you can also create your own GIFs, which will trigger tons of shares.
To create a GIF, you can combine multiple static images in a moving slideshow. You can also upload a video or take one from YouTube. And if you're on a Mac, you can even use their free tool to help you create GIFs in a jiffy. See what we did there?
#4 Loom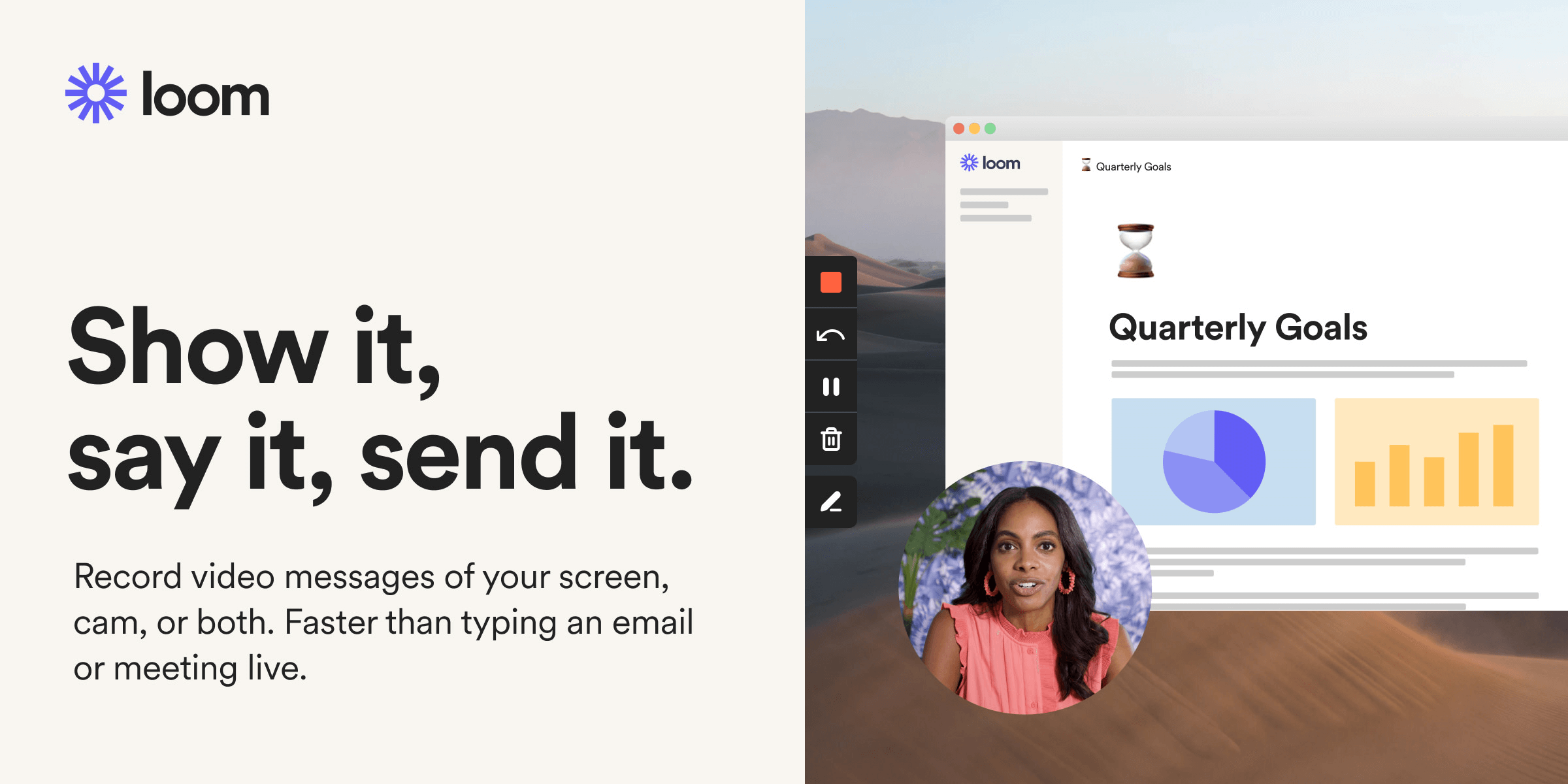 Loom is a Chrome browser extension that allows you to create screen capture videos, as well as simultaneously allowing you to record with your front-facing camera.
The people at Loom have made what was once a daunting process super easy! Not only have they made the video capture process easy, but they've also made the post-production and publishing process simple.
As soon as your video is done recording, you can immediately make the cuts you want to, all while in Loom, and then go straight to publishing the video to your audience by sharing the video's URL.
So if you want to get some good engagement on new features you're building for your SAAS, or if you want to share how certain parts of your product work. Loom is your weapon of choice to easily create a walkthrough of your products.
They start for free with up to 5 minutes maximum length for your videos, or if you want analytics and unlimited videos, you can pay $8.00 per month.
Zoom's Virtual Background Competition
In a time when online meetings have become synonymous with either Teams or Zoom, Zoom has found some great social media success. However, with success came many competitors that were ready to take their piece of the pie. Zoom, who hasn't learned to love them during the pandemic in the last couple of years?
In an attempt to increase its brand awareness and motivate people to choose Zoom for their virtual meeting needs, the company came up with a creative idea that turned its social media campaign into a fun competition.
They launched a virtual background contest that required users to send images and videos of them using one of Zoom's background options. A new winner got picked every month, and the prize consisted of several branded items.
This simple and budget-friendly social media campaign allowed Zoom to boost brand awareness through user-generated content, increase the number of monthly trials and convert more leads.
Drift's and MailChimp's Educational Content
Drift is a conversational marketing and sales technology B2B company.
https://www.youtube.com/watch?v=Ur-miuU61ko
One great way to build a relationship with your target audience is by educating them on topics related to your business. For Drift, this is content on helping you grow your business, and they do this by maintaining a consistent LinkedIn page to find new potential customers and have a YouTube page where they share advice and conversations with business owners, which they then also reshare on Facebook, Instagram, and Twitter in little clips.
Another company that creates really helpful educational content is MailChimp. MailChimp focuses on giving visibility and keeping up with the current conversation on Instagram, Facebook, and Twitter.
https://www.youtube.com/watch?v=jHSCwzIb1mM
Then, as for educational content to improve email marketing campaigns, they share tutorials and advice on Pinterest and YouTube.
The GoPro Awards
One of the most effective ways to grow engagement is to share customer and influencer-generated content on your social media accounts.
Click To Tweet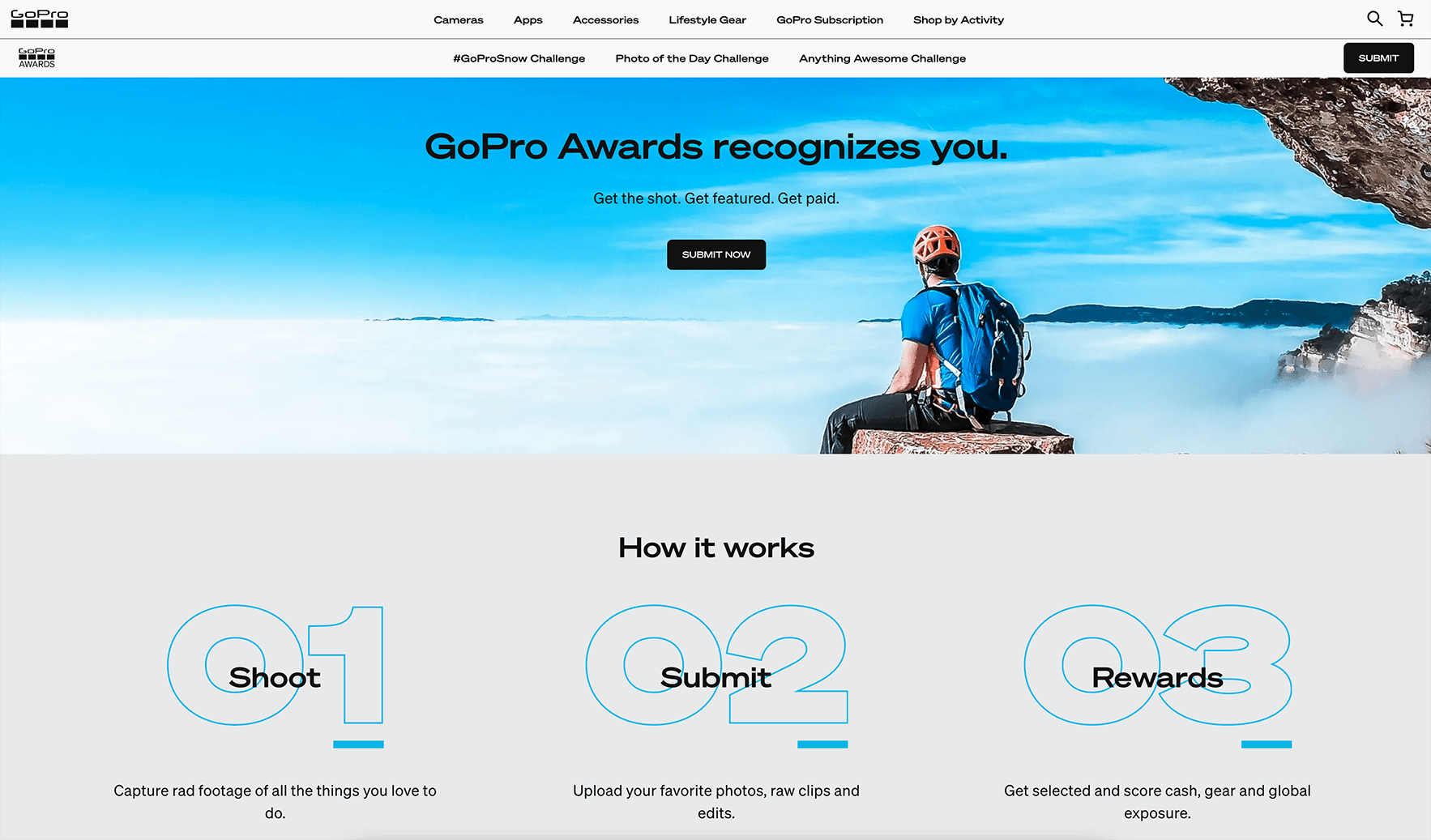 The GoPro Awards are a great example of this. Their website invites customers and influencers to submit photos and videos shot with GoPro gear.
Then, the GoPro marketing team picks the best content and rewards customers with cash, discounts, and products. Finally, they post engaging images and videos on their branded account and embed Instagram feeds on the website.
That's a wrap. We've taken you from analyzing your current social media engagement to figuring out what makes content engaging content, to creating engaging content yourself, and being inspired by some great examples of brands making the most out of each social media platform and connecting with their audiences to generate conversation and traffic.
However, just creating engaging social media content without a solid social media content strategy to stay consistent and share content with a purpose isn't going to help you achieve your marketing goal.
Not only maintaining the brand's personality and image are important, but bringing value, being reactive, and figuring out trends early to keep up with the conversation and our audience's interests.
How are you bringing value? How are you creating engaging content for your audience, and what are your favorite examples of engaging content on social media? Drop us a comment below 👇