Did you know that monthly purchasing spending among Pinterest users is double that of non-users?
Among social media sites, Pinterest stands out because its members frequently utilize it to find new things, and they are receptive to advertisements. Paid and free advertising options are available on Pinterest, and using both together may increase conversions by three times and return on investment by two times.
Plus, among social media advertising platforms, Pinterest has one of the lowest CPCs.
Notable, isn't it? Strap in as we delve into all there is to know about Pinterest advertisements, from ad formats and specifications to examples of imaginative ads that will spark your imagination — looking to grow your traffic and sales from Pinterest in an organic way? Have a look at our companion guide that helps get you started with Pinterest marketing in 2023.
But for now, let's dive into the world of Pinterest advertising.
What are the benefits of Pinterest advertising?
The core of Pinterest is discovery. Unlike other social media sites like Facebook, where you go to stalk your ex, oh, check what's up with your pals, users go there to find new ideas and inspiration.
Users of Pinterest desire to find new businesses, products, and initiatives. And since Pinterest advertising doesn't interfere, they naturally fit into that. They increase the feeling of discovery.
Because Pinners are shopping-focused, they are more likely than users of any other site to find advertising appealing. Pinterest advertising typically provides a 2x more significant return on ad spend and a 2.3x lower cost per conversion than other social media platforms. That's a lot!
But who exactly are these Pinterest users?
Year after year, Pinterest grows more popular.
The number of active monthly users has increased from over 250 million in 2019 to 444 million. That number exceeds the number of people who live in the United States. Although there are many male and non-binary Pinners, over 44% of Pinterest's advertising audience comprises women between the ages of 25 and 44, a crucial demographic for many companies.
Pinterest Ads vs. Facebook Ads: Which platform should I use?
When considering which platform you want to use for your next ad campaign, a survey by Cowen and Company found that shopping is the second most popular activity on Pinterest. So although Pinterest doesn't have the same reach as other platforms, 93% of users use it to plan what they buy. Plus, 63% of millennial users use Pinterest to discover new brands and products to try.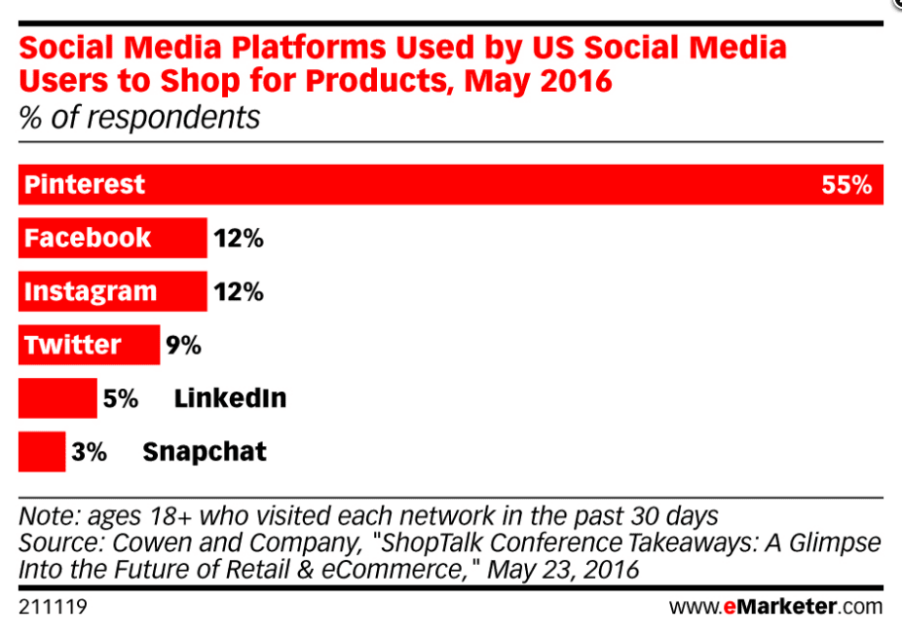 On top of that, a Facebook post's half-life is considerably shorter than a pin's. When you run a Pinterest advertisement, and a user saves it, you may continue to receive leads and sales credit for your campaign even after it has ended.
Disabling a Facebook ad means it is already over, and getting access to it is impossible.
What is the user intent on Facebook?
Facebook users often utilize it to communicate with their family and friends. They provide a platform for social networking and communities.
Because they aren't shopping on Facebook when they encounter advertising, they are more likely to make impulsive purchases.
They are on the platform participating in communities. Therefore if they see your advertisement while they are there, you win.
What is the user intent on Pinterest?
Pinterest users use the site to seek and plan. Thus their motivations range.
Most pinners start their content searches before they need it. For instance, they began looking for Christmas programming already in April 2020 for the end-of-year Christmas shopping.
They strategically prepare and carry out their plans, and I advise my clients and students to do the same while using Pinterest.
Are Pinterest ads available to everyone?
At the moment of writing this post, Pinterest Ads are available to Pinterest Business accounts in the following 34 countries:
| | | |
| --- | --- | --- |
| 🇦🇷 Argentina | 🇦🇺 Australia | 🇦🇹 Austria |
| 🇧🇪 Belgium | 🇧🇷 Brazil | 🇨🇦 Canada |
| 🇨🇱 Chile | 🇨🇴 Colombia | 🇨🇾 Cyprus |
| 🇨🇿 Czech Republic | 🇩🇰 Denmark | 🇫🇮 Finland |
| 🇫🇷 France | 🇩🇪 Germany | 🇬🇷 Greece |
| 🇭🇺 Hungary | 🇮🇪 Ireland | 🇮🇹 Italy |
| 🇯🇵 Japan | 🇱🇺 Luxembourg | 🇲🇹 Malta |
| 🇲🇽 Mexico | 🇳🇱 The Netherlands | 🇳🇿 New Zealand |
| 🇳🇴 Norway | 🇵🇱 Poland | 🇵🇹 Portugal |
| 🇷🇴 Romania | 🇸🇰 Slovakia | 🇪🇸 Spain |
| 🇸🇪 Sweden | 🇨🇭 Switzerland | 🇬🇧 United Kingdom |
| 🇺🇸 United States | | |
Although Pinterest states that shopping ads are only available in some of the ad markets, while double checking, they are available in the same 34 countries. Accounts that another business account has granted Business Access are also only available to the countries on this list.
What different Pinterest Advertising Types are there?
Pinterest isn't keeping a distance from its rivals, such as Instagram and Facebook. With the right sort of marketing campaign, whether utilizing picture pins or video pins, it offers a wide range of possibilities from which to choose. Pinterest uses three primary formats Standard, Video, and Ideas. To make it simple to tap the right sort of pin.
Try on Promoted Pins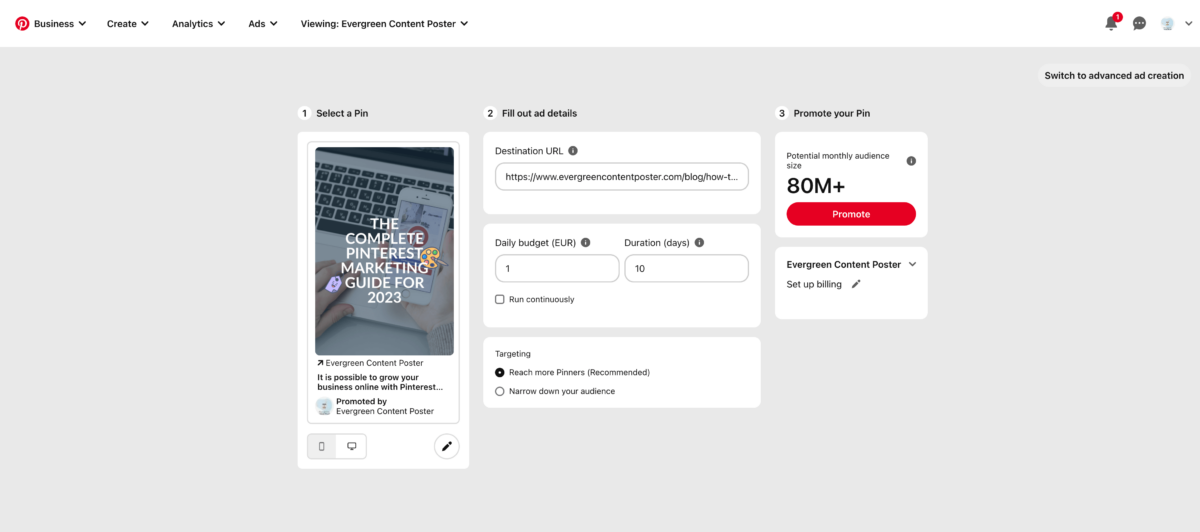 Promoted Pins are the first Pinterest ad kind on our list. Like ordinary Pins, promoted Pins appear in users' feeds but also have the "promoted" tag.
By running Promoted Pins advertising, you may increase your Pin's visibility and attract those most interested in what you offer.
These Pins operate the same way as any other content you upload on the website. When someone sees your promoted pin, they can pin it to their boards, share it with others, and write comments.
You may enhance visibility for your company and assist in putting your items in front of an even larger audience because individuals can pin these articles to their boards and share them with friends.
Idea Pin ads
Idea Pins ads are brief video clips or grouping of up to 20 images intended to draw Pinners in with engaging educational content. These are frequently short demonstrations or how-to films.
Because of their aesthetic organization, which is similar to Instagram Stories, Idea Pins are sometimes referred to as Story Pins. User tagging, subject hashtags, text and graphic overlays, interactive stickers, and optional voiceovers are all supported.
Previously, this format was only available organically, and Pinterest was conducting tests of sponsored Idea Pins in the US. However, this feature is now available in all the major countries worldwide.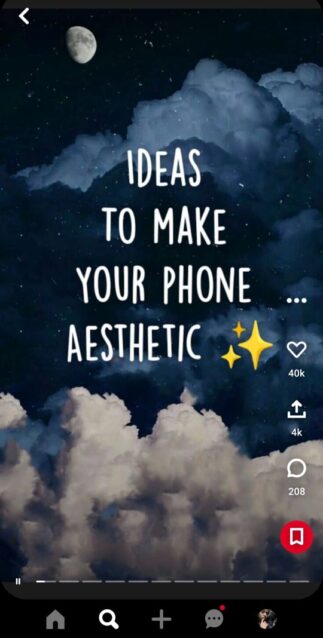 Video Pin ads
Regular-sized Pins are the same size as standard-width video Pin advertising. The maximum-width video ad on Pinterest fills the user's whole smartphone screen. Only sponsored advertisements are accessible in this format.
Both can take files in the .mp4, .mov, and .m4v extensions, with a 2 GB file size limit. A Pinterest video ad's duration might be between 4 and 15 minutes.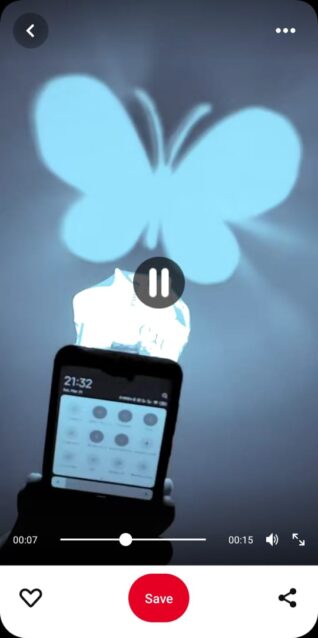 The required aspect ratios for the two video ad formats are as follows: Pinterest advises using square (1:1) or vertical (2:3 or 9:16) for Standard Width video advertisements if they are shorter than 1:2 and taller than 1.91:1.
Max. The width for video advertising is 1:1 (square) or 16:9 (widescreen).
Pinterest Collection Ads
A collections ad is an ad format that combines one large hero asset followed by three smaller secondary assets. The main asset is the hero creative, and the smaller secondary assets are the secondary creatives. Collections ads appear in the Pinterest mobile feed.
Once someone taps into a collections ad, they'll be taken to a fullscreen experience where they can see the hero creative up close and up to 24 secondary creatives.
Before running Collections Ads, you must configure Pinterest's feed ingestion technology, known as the Catalog. You must possess the following for this.
A Pinterest business profile.
A proclaimed website that adheres to Pinterest's Merchant Guidelines.
A database or file containing information on your items and their features.
Data source hosting or another hosting method and storing product data that can transmit to Pinterest regularly. (Pinterest presently supports integration with Shopify, Square, Lengow, ChannelAdvisor, GoDataFeed, Feedonomics, and Productsup.)
A Javascript element (for Pinterest) on your website. Ensure your product IDs pass back on product detail pages using the Tag Helper Chrome Extension.
Pinterest ingests the data source once every 24 hours and can handle up to 20 million goods per account.
Make sure to study this resource on catalogs before starting if you plan to run Pinterest Ads of this magnitude.
Pinterest Carousel Ads
Multiple photos are available in the Pinterest Carousel Ads for users to swipe through.
Maximum file size of 32 MB is the fixed allotment for each of the 2–5.png or.jpeg pictures you can use in a Carousel.
These photos should have a 1:1 or 2:3 aspect ratio.
Pinterest Shopping Ads
With this style, all of your product Pins will quickly turn into advertising, which increases dissemination. Similar to collection Pins, shopping advertising is produced from your product catalog. Shopping Pins, however, only display one picture or video.
These advertisements are brilliant because they are so easy to make. Based on your product details and vertical, Pinterest automatically sends shopping advertisements to the most interested audience. Pinterest shopping advertisements may also be advantageous for physical stores.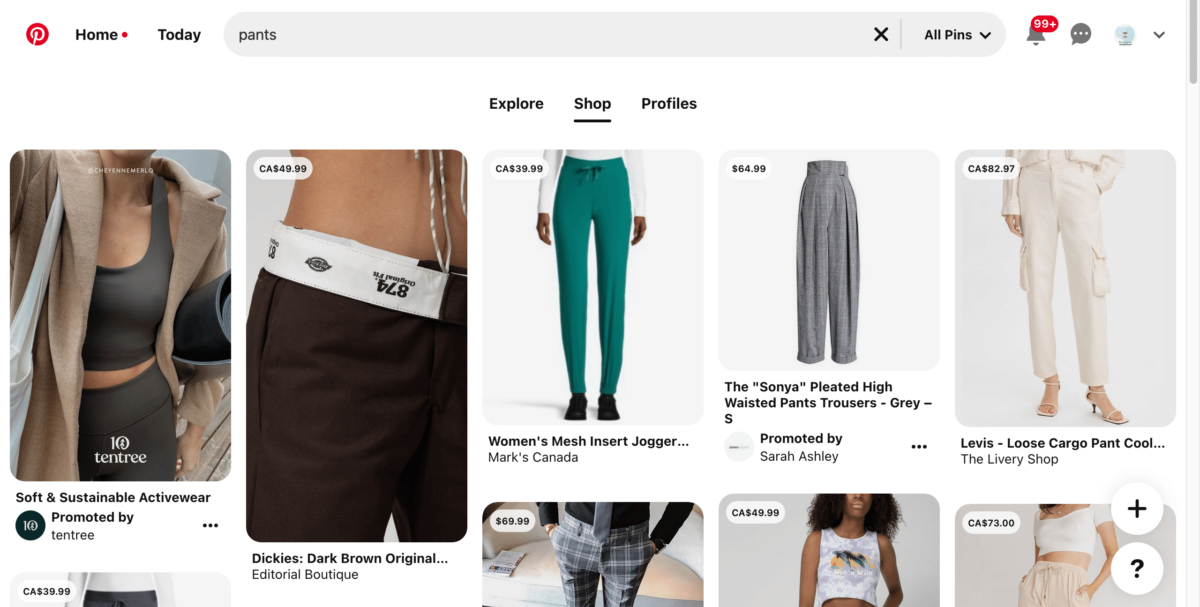 App Install Ads
Promoted App Pins are another sort of Pinterest advertisement you may utilize. As the name implies, you may use these pins for advertising your company's app.
Given that mobile devices account for 82% of Pinterest usage, this is a fantastic chance to advertise your app to users who are currently using their phones to browse.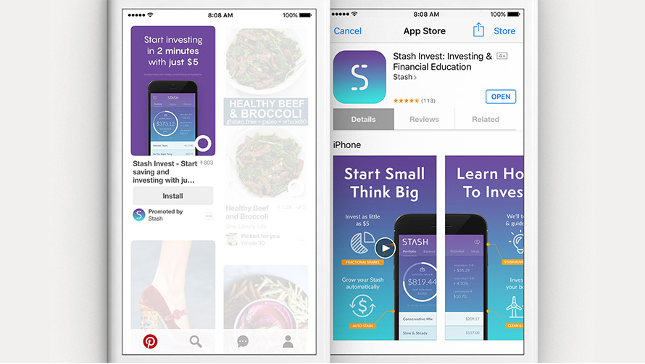 You may create a Pin using this advertisement that points to your app on the app store. Users will get the invitation to download your app when they click the Pin, which directs them to its entry in the device's app store.
What are the Pinterest Ad Objectives?
Like most other advertising platforms out there, auction-based advertising is used on Pinterest. Marketers need to specify their goals before producing a sponsored Pin.
Depending on your company's goods, objectives, and KPIs, select the Pinterest ad objective that best suits your visual style. Brands compete for promoted Pins seen by their target market. Your bid at the auction is influenced by your purpose. The company that is offering the best deal wins.
Brand Awareness
This target is appropriate for your campaign if you want as many relevant Pinners to view your Pin as you can. This is for publicizing your company or the debut of a certain product. Per 1,000 impressions, brands are charged.
Video Views
The goal is to show your movie to as many users as you can who might be interested. This rule is valid for all forms of video pins, including targeted product advertisements and generic videos about your company—brands pay-per-view when viewers watch your video for longer than two seconds.
Consideration
Getting clicks on your Pin is the main objective here. Web traffic, in other terms. This aim aims to draw consumers who are already familiar with you further down your sales funnel.
Conversions
Conversions aim to motivate Pinterest users to take action. These call-to-action (CTA) campaigns aim to accomplish a certain goal, such as purchasing, event registration, or other opt-in activity.
Shopping advertising, collection advertisements, and idea pins should all aim for conversions.
Catalog sales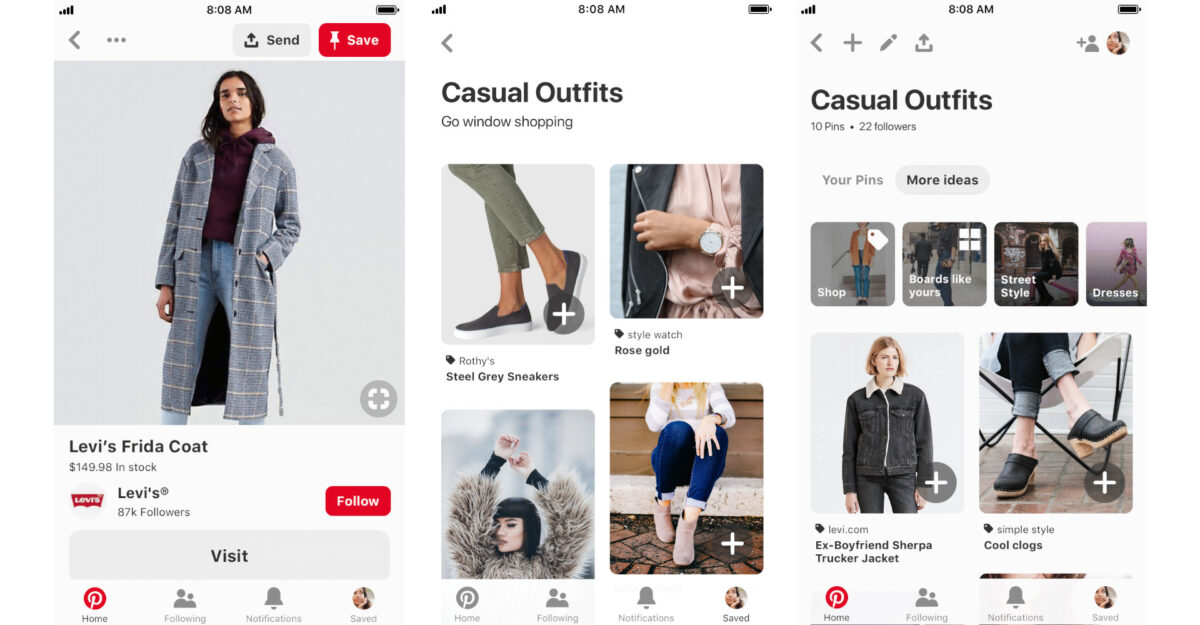 E-commerce shopping advertisements are only concerned with one goal: product sales. Because of this goal, when visitors are exploring Pinterest, they will see your promoted Pin. A fee per 1,000 impressions or a pay-per-click model is available to brands.
This is advisable for shopping Pins and collection advertising.
How much does Pinterest advertising Cost?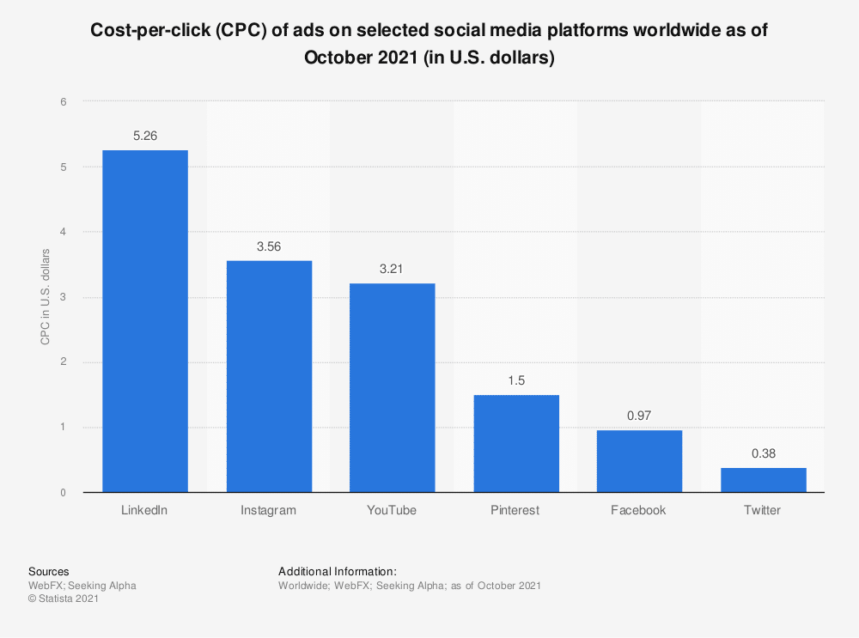 There isn't a set price for Pinterest advertising that advertisers may advance pay. Depending on the campaign and ad type, the price will vary. Pinterest advertising in 2021 cost an average of $1.50 per click, while the cost of each drive and ad style varied. The prices went up a little bit in 2022.
So right now, you can probably expect to pay between $2.00 to $5.00 per thousand impressions (CPM) if you're trying to build brand awareness, and boosting online engagement costs anywhere between $0.10 and $1.50 per engagement. If you want to drive traffic to your website, it will also cost you between $0.10 and $1.50 per engagement—finally, conversion-based campaigns command between $6.00 and $10.00.
Due to the bidding method for Pinterest advertisements, a well-known advertising and search location will undoubtedly land on the higher end of the range. If your product or brand is more specialized, you will save money. Due to fewer competing offerings, you will spend less if your brand or product is more specialized.
However, Pinterest does use a different bidding strategy compared to other networks. For each ad position, you, as the "winner," always pay the second highest bid. It is, therefore, essential that you manage your bids daily to maintain reach.
Within Pinterest, there are two different ways to manage your budget: lifetime budget & daily budget:
Lifetime budget = the total budget you are allowed to spend from the beginning to the end of the campaign. This option is ideal when you want to distribute an amount evenly over a certain period.
Daily budget = the daily budget your ad group can spend the most. This option is ideal when you want to control your daily spending on an ad.
Custom Bidding
You determine the amount you want to invest in each campaign action. Baseline bids fluctuate based on the ad format and level of competition, but you have complete control over the maximum offer.
Pinterest refers to this as the CPC bid. You determine the maximum amount of money you want to spend per click.
You then specify the frequency and how often you want your ad to be shown in that spot and to that user. You can also set the bid in the bulk editor. Instead of "Create Ad," go to "Bulk Editor".
When entering the bidding strategy, you choose 'Automatic' and enter the maximum bid. This will automate the bidding for you.
Automatic Bidding
Automatic bidding, introduced in 2020, lowers ad costs while improving outcomes. To ensure you get the most value for your money, Pinterest automatically changes your bids throughout the day. You can only use this type of advertising bidding for the following campaign objectives:
consideration
conversion
catalog sales
Do you aim to generate as many clicks on your ad as possible? Then Pinterest will work for you to generate as many clicks as possible for as little cost as possible within the budget you set. This is where that budget is fully utilized.
How to advertise on Pinterest
Create a business account.
Before starting advertising, you must have a business account on Pinterest. Not sure how to make one? Check out our other post on marketing your business on Pinterest with a detailed guide on how to set up your Pinterest Business account.
Choose your campaign objective.
You'll receive all instructions on how to set up your ad after browsing the Pinterest Ads Manager. Depending on the marketing funnel level you wish to target, you have a variety of campaign objectives at your disposal. The kind of Pinterest ad campaign you select will depend on your campaign aim, which may be raising brand recognition, encouraging contemplation, or generating conversions.
A number of the objectives have further specifications:
Set your campaign budget.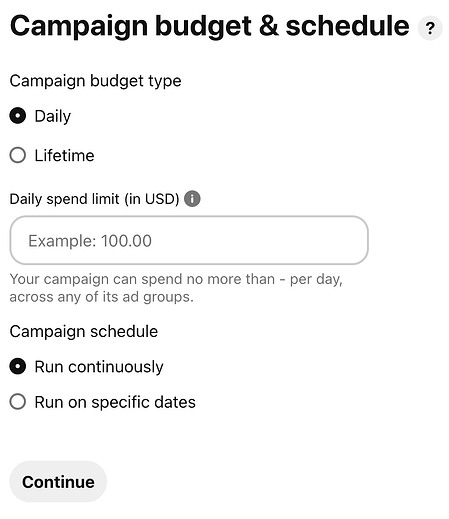 Next, decide on a budget and a launch date for the advertisement. Pinterest offers spending suggestions based on objectives. Budgets are specified at the campaign level except for the video view goal, which uses ad groups. You may decide how you want to bid and if you want a daily or lifetime budget.
Either automatic or bespoke bids are accepted. Pinterest will handle your bid on an autonomous basis. If you're just getting started with advertisements and want to evaluate how they perform before making any adjustments, this is a smart alternative.
Create an Ad Group
We will create a post just for Pinterest ad targeting because there are a lot of possibilities in Pinterest advertisements. A campaign may have several ad groups. Different targeting choices are available, including interests, website visits, and keywords.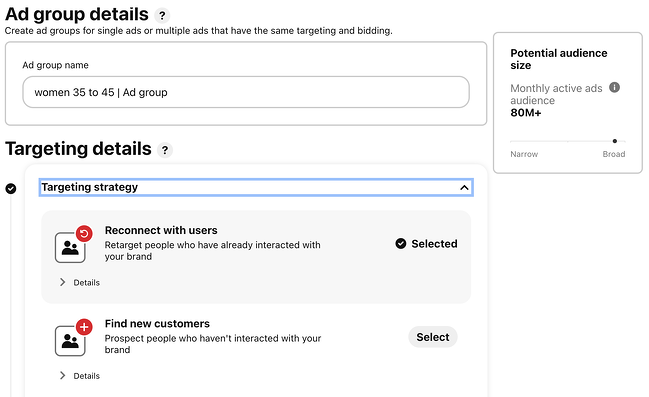 Choose your target audience.
You should intentionally consider your target market while producing Pinterest adverts. Choose the groups of individuals who are most likely to want and buy your items as your target audience. You may target Pinterest advertisements based on gender, region, language, and device.
Design your ad
If you're creative, this might be a lot of fun, but successful Pinterest advertising has certain characteristics in common. You should bear in mind the following typical Pinterest advertising best practices:
Pinterest Pins are available in two sizes: square and long. Sometimes, you might wish to utilize a square Pin (for cross-posting from Instagram, for instance), but lengthy Pins occupy more space and are more noticeable. Pinterest suggests photos that are 1,000 by 1,500 pixels and have a 2:3 aspect ratio.
Long Pins can be 1,000 by 2,100 pixels in size, but if they are much longer, they will be truncated, which is bad for your business.
Make the best-ever ad using all of your creativity.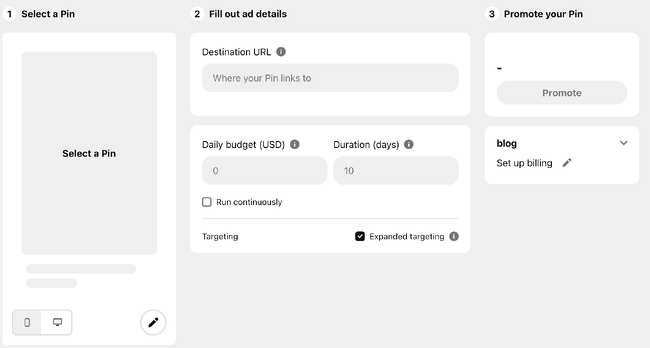 Maximize your SEO efforts.
Over five billion searches are made on Pinterest each month. This implies that you may target this activity with sponsored Pins. Your landing pages will always receive visitors when you provide engaging, hyper-relevant content that satisfies the needs of your target audience. An organic Pinterest strategy is essential for sustainable traffic over the long run.
Add value
Using a call-to-action (CTA) to direct visitors to a lead page is one of the best practices for advertising on several other platforms. However, many that use Pinterest for search do so to find out more. If people find your promoted pin, click on it to learn more about it, and are directed to a website that only requests their email address, they could become irritated.
Sending them to a landing page so they can learn more about what you have to offer is a productive method to leverage Pinterest for advertising. A lead-generating form can be included on this page, but it shouldn't be the sole resource there.
Mix up your content
More than 85% of Pinners look for and favor visual material. Because of this, Pinterest is a particularly effective platform for disseminating all kinds of material, including written blog content. Users may click via live links, unlike Instagram.
You share stuff on Pinterest using Pinterest boards. Boards promote your material to your followers and store every Pin you make. You can create as many boards as you like and group them according to topics, ideas, plans, or sources of inspiration to make it simple for your audience to discover the information they need.
Monitor campaign performances
After setting up the Pinterest ad campaign, you have to monitor how is the performance of the ad you have started.
10 tips for highly converting Pinterest ads
Use high-quality images: Pinterest is a visual platform, so use high-quality, attention-grabbing images that are relevant to your ad's message.
Create a clear, concise copy with an exciting hook: Your ad copy should be clear and concise, with a strong call to action that prompts users to take action. In addition, you want your copy to trigger people to click on your ad. So with a video ad, you must ensure that the first few seconds immediately invite the viewer to see more of the video or click through. With a standard pin as an ad, make sure that the first 30-50 characters grab the reader immediately.
Choose the right keywords: Use relevant keywords in your ad text and targeting options to ensure your ad reaches the right target audience.
Use eye-catching graphics and colors: Use eye-catching graphics and colors to make your ad stand out in users' feeds.
Keep your branding consistent: Use your brand consistently in your ads, including your logo, colors and fonts.
Use relevant hashtags: Use relevant hashtags in your ad text and descriptions to increase visibility and reach more users.
Target your audience: Make sure your ad is targeted to your ideal audience to increase its effectiveness.
Include a clear call to action: Your ad should include a clear call to action that encourages users to take action, such as visiting your website or making a purchase.
Consider the season: Take advantage of holidays, vacations and seasons. For example, you can create ads around Black Friday or special days like Father's Day and Mother's Day.
Test and optimize your ads: Constantly test and optimize your ads to improve their effectiveness and get better results over time.
Conclusion
Regardless of how big or small your company is, utilizing Pinterest as a social media marketing platform is a clever method to promote your company, goods, and services.
Your business gains from Pinterest advertising, which also demonstrates the creativity of your brand.
As a result, Pinterest presents an affordable advertising alternative that merits inclusion in your omnichannel marketing strategy for 2023. It offers a more cost-effective and highly effective approach to circumventing the fierce competition encountered on major platforms such as Facebook and Instagram, along with the exorbitant advertising fees that typically accompany them.
Are you going to use ads on Pinterest? And if not, what's still holding you back? Let us know in the comments!