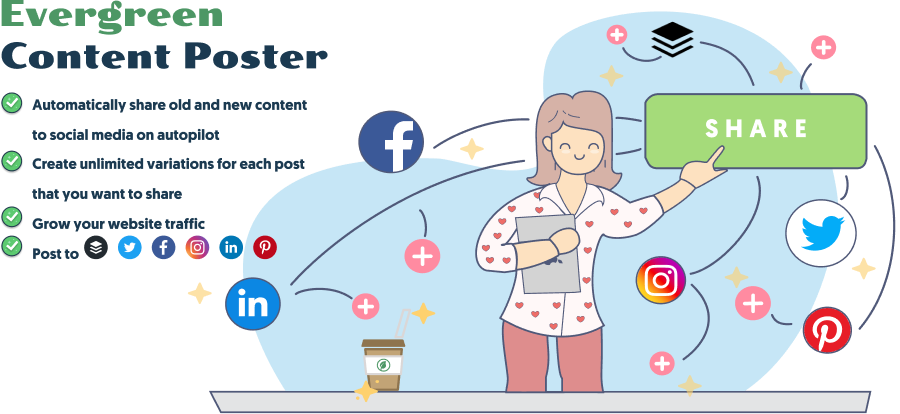 Are you doing most of the work manually on your social media channels, often finding that you did not have time and did not post anything for days?
Are you creating content on your WordPress website, sharing it once and never again?
Forgetting about all that great and still relevant content and wasting a huge opportunity to help drive traffic and sales via social media in the process?
If you're one of those people or businesses struggling to find an automated solution for posting your content on social media, look no further.
The evergreen content poster makes it really simple to put your social media posting on autopilot and drive more traffic to your website.
Automatically Schedule Your Best Content On Social Media
You might have tried some other solutions out there, but none have the wide range of options that this plugin has.
Did we already mention, by using the plugin you can easily grow your website traffic? Or maybe we should let one of our users Laura do the talking:
Within 1 month of having the plugin fully set up, I've been able to get a brand new Facebook page up to a reach of 164,000 people, with very little effort! About 60% of my website traffic is currently from Evergreen Content Poster posts.

After testing out a variety of content poster plugins I landed on Evergreen Content Poster as my favourite. I love how customisable the plugin is – I don't think I've been able to find a single other plugin that lets you choose individual post times, create categories, and customise post content individually across every single social platform.

It is ridiculously easy to use and has saved me countless hours of work. There is absolutely no way that I would be able to create over 100 posts every week as an entrepreneur on my own. I feel like I've been given a free employee!
Plus our customer support is off the charts as Wendy from the Salty Uber Mom states:
This plugin is like Tailwind for all of your socials. And the support team is incredible and responsive. My blog traffic has continued to increase since I started using Evergreen Content Poster.
What exactly do you get when starting to use the Evergreen Content Poster?
The Evergreen Content Poster is a powerful marketing automation plugin that automatically shares your content on a pre-defined interval to ensure you stay active on social media, increases your followers, and generates more inbound traffic.
You get:
Non-stop social traffic to your site
After a one-time setup, no management required: save up to 40 hours per week
Reduce the repetitive time-consuming busywork
Instant growth of sales and profits
Convinced that Evergreen Content Poster can help your business?
Be sure to only enter your domain (e.g. https://www.yourgroovydomain.com/).
WordPress must be running on this domain.
On the next page, click "Install" again on the bottom right.
Install The Evergreen Content Poster
Installing the Evergreen Content Poster is pretty straightforward, if you know the URL of your website from the top of your mind, just simply add it in the form above and click "Install Now". If for whatever reason this fails you can also try it manually as described below.
Manual Alternatives
If you prefer installing manually you can download the plugin ZIP file here.
Alternatively, you can install the Evergreen Content Poster directly from your site's dashboard by searching for "Evergreen Content Poster" in your plugins tab. Step-by-step instructions are up next.
Installing the Evergreen Content Poster plugin manually
The easiest way to install the Evergreen Content Poster manually is via your site's Dashboard. Please follow these instructions to install the Evergreen Content Poster:
Log in to your site's Dashboard (e.g. https://www.yourgroovydomain.com/wp-admin)
Click on the "Plugins" tab in the left panel, then click "Add New".
Search for "Evergreen Content Poster" and the latest version will appear at the top of the list of results.
Install it by clicking the "Install Now" button.
When the installation finishes, click the "Activate Plugin" button.
You will now be redirected to our settings page. From here you can finalize your installation and connect your social media accounts.
You're done!
Installing the Evergreen Content Poster in a multisite environment
Log in to your primary site and go to "My Sites:" > "Network Admin" > "Plugins"
Install the plugin following one of the above ways
Network activate the plugin
Having trouble?
Don't see a Plugins menu in your dashboard? Then your site is probably on WordPress.com and you can't install Evergreen Content Poster :-/
If you are using a Multisite install, note that Evergreen Content Poster must be activated individually for each site in the network. Any admin for that site can forge the activations.
Still having troubles? Drop us a line via our contact form!
free download